I love this. New York is a sewer, but it's my sewer.
---
Mom found this coverlet at a garage sale. She loves it. It is all very nice piece work. The pillow in the last picture she did herself, and she brought it out because they match.
---
I went over to my brother's house and my friend Bob Rucker was there. Bob received a heart transplant just a couple of weeks ago and is doing very well. They were hanging out playing guitar and shooting the breeze.
The temperature was 97° but there was a nice breeze so it was bearable.
---
I've been using DropBox to store my files. I use DropBox to securely store my Work-in-Progress files on their server. I put the DropBox app on my main computer, my laptop, my work computer, my iPad, and my Android phone. When I change a short story on my laptop, the file is automatically saved on the DropBox server. When I sit on the bus and want to work on that file, the file is automatically updated to the latest version from the server. When I retire a computer, I don't have to save the files, because they are already saved – all I have to do is tell DropBox that the file are no longer to be shared on that device. This is extremely nifty.
DropBox has a limit on the storage space. I stored a heck of a lot of stuff, but I wanted to store all of the working files for my websites. That was about 7 gigabytes, but DropBox only let me store 5 gigs.
There is a new competitor to DropBox called Copy.com. It is just like DropBox, but lets me store up to 15 gigs. I just copied all of my website files to Copy.com.
I encourage everyone to use these services so that you never have to copy files from one computer to another, and all of your work will be kept safe where crashes and hackers can't mess with them.
You can easily sign up for DropBox or Copy.com – Just enter you email and password and install the sharing app on your computers and never have to lose a file again. I will get some extra space for referring you. You can get extra space by tweeting or posting on Facebook, too.
---
I came home from a 5 hour job interview in White Plains to find this note: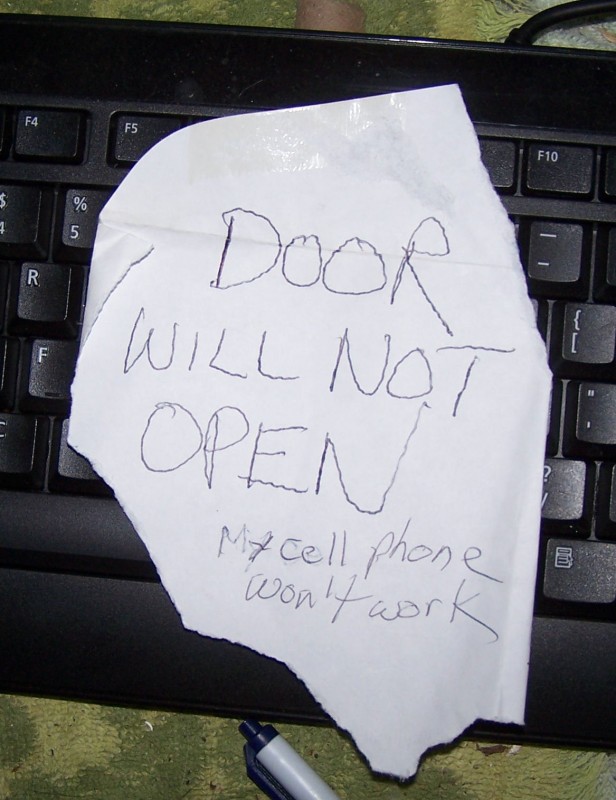 She needs a new cell battery. I am shopping for a nice Verizon Smart Phone for her so she can transfer all of her unused minutes.
The door was stuck because I tightened a loose doorknob just a little too much.
---
I pulled the boiler out of the cellar and I am cleaning out a way to get the new one in.
This Peerless Pinnacle boiler was a nice idea, but it never worked reliably. It has a computer to control the heat and was rated at 95% efficient. It seemed to know when the temperature dropped well below freezing in the middle of the night and would shut itself off. It was supposed to pay for itself in 10 years, but I could only stand it 8 years. I got good at sticking my hand up out of the covers to check the temperature to find out if the heat had failed.
I am replacing it with a conventional boiler that weighs three times as much, but can be trusted to stay on through a cold night unless the gas fails or the water pressure drops. The replacement will be 85% efficient, which isn't bad. The original boiler I had twenty years ago was an old style 65% efficient model.
The Peerless is out on eBay, but I don't have high hopes of it selling.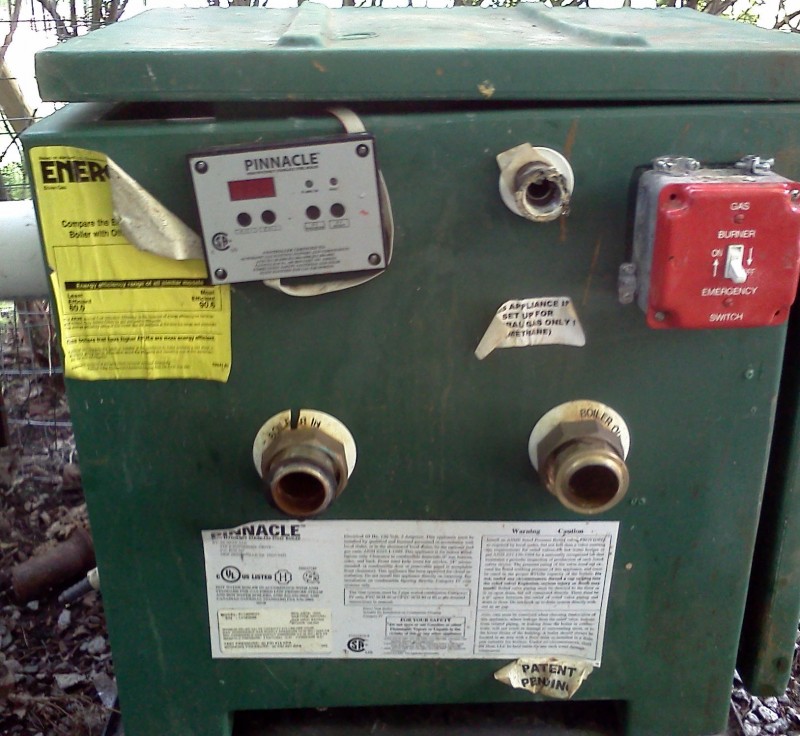 ---
The little copper maran chicks have been doubling in size every couple of weeks. They now wander around and interact a little with the big chicks. Soon they will stop sleeping in the chick house that I built and join the flock in the main chicken coop.
These chickens (named Veronica and Betty) are French Copper Marans, and will lay dark chocolate colored eggs (starting around Thanksgiving). http://marans.cyberscope.fr/
---
Last year, whenever I cleaned the chicken coop, I dumped the straw and manure on our old garden. We gave up on gardening years ago because the critters ate our vegetables before they had a chance to get started. This Spring,  I had time due to my job discomfiture to build a proper fence around the garden with a nice gate.
Because of the nitrogen rich manure, the plants have grown into a jungle. My tomato plants are six feet tall and covered with buds and tomatoes. I expect to pick the first one this week – a month earlier than ever before. The corn is growing like crazy and is already taller than it has ever been.
We have squash, and beans, and broccoli, and peppers coming up like crazy.
Here are a few pictures.
---
Nyack has been a refuge for all kinds of odd types escaping NYC. I am surprised there are not more of these.
UFO Sighting in Nyack, New York, United States on June 19th 2013.
"I was driving home from school on the thruway. As I was merging off the exit I looked up in front of me and I noticed something in the sky. As I was going around the bend I had to turn my head to the drivers side window to see it since I was driving away from it. I clearly saw three clear to whitish objects closely together. It did not seem like they were moving."
The person's phone was dead – convenient.
---
Now is your chance to spend $8,000 on a new Acer Aspire R7 computer. Cool looking but a little over priced.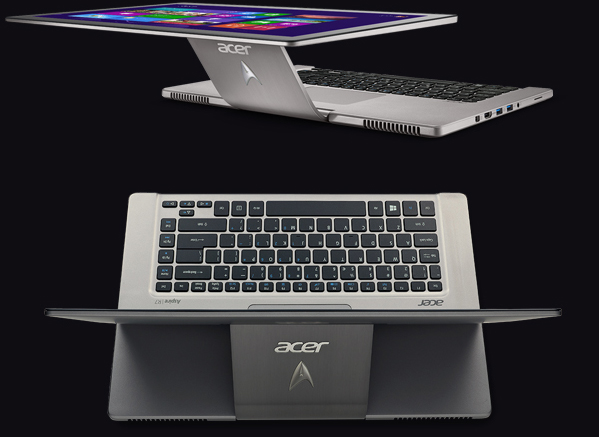 ---
If I had been a better coder this could have been me.
(Yes, this is really the famous John MacAfee, the computer programmer.)
---
It was too crowded on South Cape Beach on Saturday. There must have been a dozen people sharing the sun with us. As usual, we did not catch any fish, and the Metal Detector didn't find anything. I drove the whole way back and I'm tired.

---
We get a pretty good dinner at Spanky's here in Hyannis. Voted 2012 best restaurant in Cape Cod Magazine.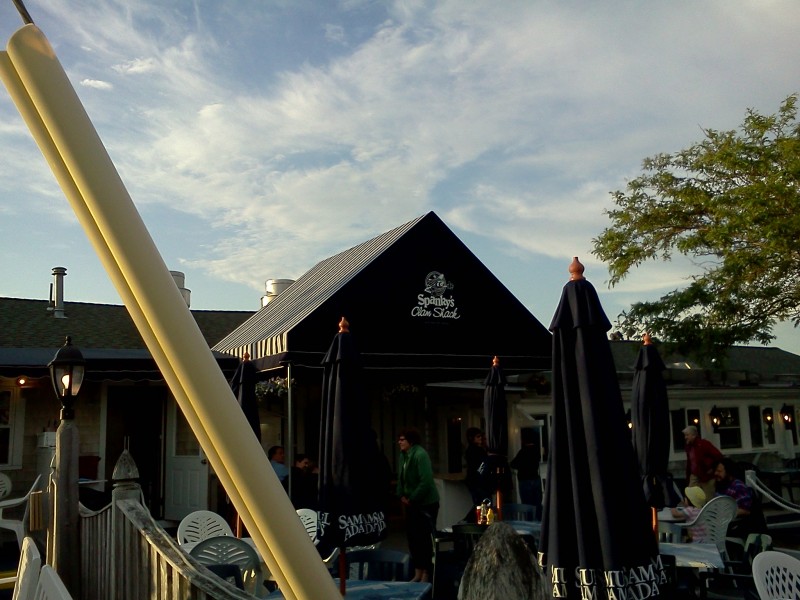 ---