Cleaning out the camera…
Here are some very nice pictures of some fungi growing on logs in the back yard.
---
My old boiler is gone and I ordered a new one which arrived in the driveway last week. It weighs 480 pounds and is more that I could handle. Larry came over and brought a neighborhood kid named Brian to help.
Larry and I guided the unit into the cellar while we let Brian do the hard part. He had what is called "The Irishman's Lift" which is to say he was below it and had to control the heavy part of the thing while we lowered it down the stairs from the top. It went without a hitch. I gave Brian the contents of my wallet ($5) and they left.
I then had to move the boiler from the bottom of the cellar stairs to the back room. I had to then unpack it and place it on some bricks in the right position and level it. 480 pounds is quite a bit to handle alone, but I got it done.
This weekend I got the water, gas and chimney done. I got 90% of the electrical done and all that is left is to hook it to the thermostats.
I will hook up the downstairs zone tonight, and if I have time, the east bedroom. It should not be too much of a problem.
---
Yesterday I logged into TSO for the first time in more than 30 years. It is hard to believe but this was cutting edge tech in the 1970s. TSO stands for Time Sharing Option and it was a way for programmers to work on mainframe programs. This mainframes cost millions of dollars and had as much computing power as my wristwatch does today. We talk about Gigs of memory today but in 1980 I worked on a big machine that had 5 partitions, each with about 64K of memory. The thing had two processors and a total of 512k memory and it served hundreds of people on old fashioned terminals.
In another 30 years we will think that PC's and Tablets are quaint devices used by a few nostalgic hobbyists who are living a slow and boring past. What will replace them? I am a little frightened to think about it.
My job now is to replace the old green screen COBOL programs with Java. It is not trivial. It gives me a certain nostalgia for these dinosaurs. Things were simpler in those days, if not easier.
---
The 1959 Oldsmobile Super 88 was a great car.
Erica and I were wandering around Dutchess County last Sunday and I stopped to take pictures of this one. It was in rough shape and going cheap, but I want it.
---
Erica and I were coming back from a trip to Apple Country and had to get off the thruway because of traffic. We wound up passing through Haverstraw where her family lived for many years.
Here is the old house built by Erica's great-grandfather. I used to go here with Erica to visit her great cousin's Rose and Marie Clark.
It is a fine house, probably the nicest on the block.

---
I have not been very good at keeping up with posts. It seems that I have been very busy and when I get home, I crash in front of the TV.
I have been working since the beginning of August. I make more money than I did on the last job and my commute is shorter. I am doing some interesting stuff trying to bring big companies out of the Dinosaur era of COBOL and big iron computers into server oriented JAVA code. It is not as easy at it sounds. If you know someone, especially in banking, who is still maintaining COBOL code, this company has the solution.
Here is a picture of my desk. I am out in the open and don't get to "self actualize" much as everybody who passes by can see my screen.
This is the outside of the building. It is off rte. 119 in the same complex as a TGIF Fridays if anyone wants to buy lunch.
---
Fred Pohl updated his blog earlier today and then passed away. I have been reading his blog for a few years and have contributed to the discussions there. Fred has commented about things on my web sites twice. I got the feeling that I really knew him and I thought that some day I would meet him.
I like his books. Some are good, some are very good. He was a major influence in Science Fiction. As an Editor he brought a new humanism to Science Fiction. He moved away from the Engineering/Science aspects of Science Fiction towards a more psychological treatment of characters and their problems. What he published was not exactly "soft" SF, but he made it more real and more human.
I will miss his blog. I will miss the man. I have a signed manuscript that of his that I bought on eBay and I will always treasure it.
---
As you may have read in these pages that we had a very unreliable furnace heating our house. It was a Peerless Pinnacle high efficiency boiler. I chose it because they installed a similar one on "This Old House" and I liked the idea of 96% efficiency. The boiler leaked and failed, and I had to replace sensors and parts all the time. For a while I had to pull mice out of the air intake valve once a week. On the coldest nights it would die at 3AM and I'd have to go down and reset the buggy little computer that ran it. Erica was always cold and I got sick of it.
This summer, after 5 years of chilly winters, I sold the Peerless on Craigslist. The copper pipe was installed by Sears about 30 years ago when I first installed heat in the house, and it was shoddy work that leaked. I ripped out all the copper and put in new copper pipe wherever I could. Last weekend I finally finished all the soldering of new pipe. I put temporary valves in the places where I will hook it up to the furnace, and turned on the water. Not one drip!
I now have to order a new boiler before the weather turns cold. I have about two months to get the furnace installed. Conventional boilers are made of cast iron and weigh about 450 pounds. I am not looking forward to getting this into position in the cellar. I may need a little help from my friends.
---
I'm not a poetry guy, but internet friend Shaun Lawton wrote this on his poetry blog. I like it.
Sphingidae speaks
said lycosa to musca
you're a lovely c.atratus
compared to the nestor mirabilis,
and pedipalpi asked ophidia
whose side the cathartidae were on–
the lanidae, chiroptera, or corvidae?
while the bubo virginianus whispered to canis
the answer was muridae, felis and hominidae
(Death's-Head moth speaks)
said tarantula to fly
you're a lovely black swan
compared to the carnivourous parrot,
and scorpions asked snakes
whose side the vultures were on–
the shrike, bats, or crows?
while the great horned owl whispered to wolf
the answer was rats, cats, and man
---
I love this. New York is a sewer, but it's my sewer.
---
Mom found this coverlet at a garage sale. She loves it. It is all very nice piece work. The pillow in the last picture she did herself, and she brought it out because they match.
---
I went over to my brother's house and my friend Bob Rucker was there. Bob received a heart transplant just a couple of weeks ago and is doing very well. They were hanging out playing guitar and shooting the breeze.
The temperature was 97° but there was a nice breeze so it was bearable.
---
I've been using DropBox to store my files. I use DropBox to securely store my Work-in-Progress files on their server. I put the DropBox app on my main computer, my laptop, my work computer, my iPad, and my Android phone. When I change a short story on my laptop, the file is automatically saved on the DropBox server. When I sit on the bus and want to work on that file, the file is automatically updated to the latest version from the server. When I retire a computer, I don't have to save the files, because they are already saved – all I have to do is tell DropBox that the file are no longer to be shared on that device. This is extremely nifty.
DropBox has a limit on the storage space. I stored a heck of a lot of stuff, but I wanted to store all of the working files for my websites. That was about 7 gigabytes, but DropBox only let me store 5 gigs.
There is a new competitor to DropBox called Copy.com. It is just like DropBox, but lets me store up to 15 gigs. I just copied all of my website files to Copy.com.
I encourage everyone to use these services so that you never have to copy files from one computer to another, and all of your work will be kept safe where crashes and hackers can't mess with them.
You can easily sign up for DropBox or Copy.com – Just enter you email and password and install the sharing app on your computers and never have to lose a file again. I will get some extra space for referring you. You can get extra space by tweeting or posting on Facebook, too.
---
I came home from a 5 hour job interview in White Plains to find this note: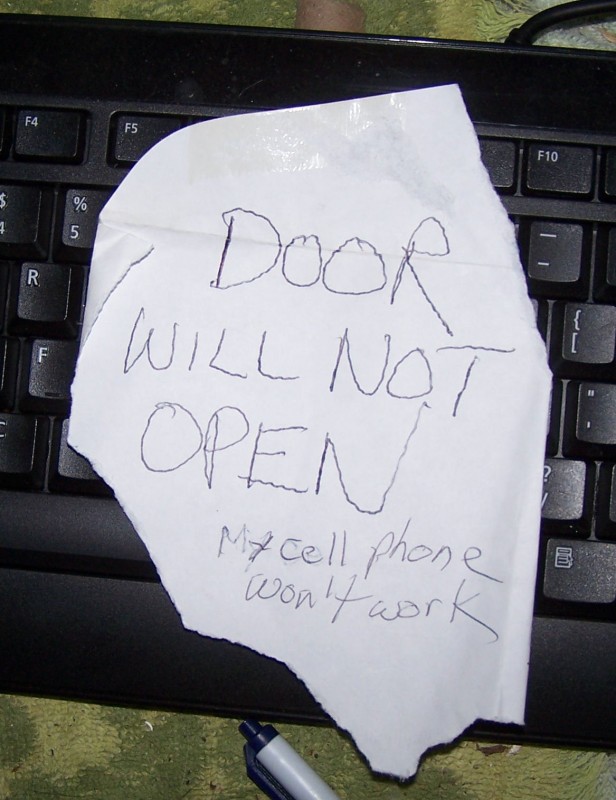 She needs a new cell battery. I am shopping for a nice Verizon Smart Phone for her so she can transfer all of her unused minutes.
The door was stuck because I tightened a loose doorknob just a little too much.
---