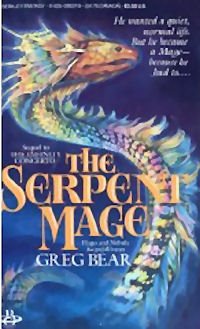 I finished the Bear's The Infinity Concerto last week. I felt that it was one of Bear's lesser efforts. I feel the same about The Serpent Mage for the same reasons.
The story is the continuing saga of a 16 year old boy, Michael, who is dragged into a conflict involving the land of the Sidhe and Earth. We have learned from the previous book that that the Mages created pocket universes which are imitations of Earth. In this book we learn that the Earth's universe is a created pocket universe. At the end of The Infinity Concerto, the world of the Sidhe starts to self destruct. The Sidhe enter Earth through old portals and begin to change the nature of reality. Michael enters the dying world to save the captured human population including the composers Mahler and Mozart.
Michael keeps on adding new powers to his repertoire, usually just as the plot gets to a point where a new power is necessary. By the end of the book he is pretty much a superman.
The interesting parts of the novel are the use of Music as a channel for magical power and the notion that someone is interfering with human history by killing or capturing the true geniuses that might offer Earth a way to true maturity and progress. Otherwise the book seems to get silly towards the end. I lost contact with the main character about 250 pages into the book and only finished it to see how Bear managed to tie up the loose ends.
My suggestion would be to read other books by Bear such as Darwin's Radio or Blood Music. I really liked Moving Mars and his short story collection. I think that High Fantasy or Urban Fantasy sell many more books than straight SF so Bear did the wise thing and fed his family by writing these two books. I will be careful when buying a Greg Bear book in the future, though. I don't need any more bad fantasy.
---
I did lots of other reviews. I am going to pull the reviews from my Blog and put them on another page to keep all the reviews together.