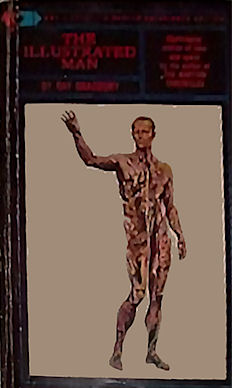 The Illustrated Man is the sixth book in my Read Bradbury in October series.
The Illustrated Man is one Bradbury book where I am sure of the time that I first read it. The book cover at left is from the Bantam Pathfinder edition of 1965. I know that I bought this one new in late 1965, when I was 14, to replace the one that I had lost at Bard College. (The image is the best I could find on the Internet – I don't scan these.) I took an earlier copy with me to Bard, where I spent two weeks on the campus. It was a camp run by the Episcopal Church and the price was right so my mother sent me off. The kids spent the day swimming, playing ping pong and pool and there were events every night. We spent some classes in the morning learning about religion, but nothing too intense. Episcopalians are about as far from the religious right as you can get. I remember discussing the big bang theory and evolution with a very cool Episcopal monk, late into the warm August nights.
The Illustrated Man was my Bible in 1965, in spite of the priests who had long philosophical discussions with me. I remember feeling mild stirrings of religion then, but I managed to throw it off soon enough. I still have fond memories of Evensong, a service that was held every night around 8 just as it started to get dark. It was sung using the Old English version of the prayer book and was very beautiful. I like the Episcopal Church and on those odd days when I feel there might actually be a loving God, I count myself an Episcopalian. If you have kids, send them to the Episcopal Sunday school and they will learn about religion without being brain-washed.
I remember that I lost my copy of The Illustrated Man at Bard that summer of 1965. I say "lost", but I am sure one of those God-loving, holier than thou, died in the wool Christian brats stole it from me, may they burn in hell. I covered my new copy with clear plastic "contac" because I carried it around in my back pocket and wanted it to last longer than the last one had.
I must have read the stories in the Illustrated Man a dozen times, and then I put it away. I am not sure why, but I haven't read most of these stories in 40 years. I fondly remembered all of the stories, but there were a few that I did not recognize right off the bat, and didn't recall until I had read a few pages. This is Bradbury's second anthology, published in 1951 when Ray was about 31 years old. These are mostly stories from before Bradbury was famous and many reflect the influence of Lovecraft, Algernon Blackwood, Poe and Ambrose Bierce. There are a scattering of Science Fiction stories, but these would hardly be called "hard science".
There is a wrapper story that links all the stories in The Illustrated Man. A man meets the illustrated man in the woods of Michigan. The illustrated man has pictures all over his body that portray stories and each story in the book is a picture from the Illustrated Man's body. There is an amorphous area on his back that begins to take form. This area, if watched long enough, will show the fate of the person who looks on it.
There are several Mars stories in The Illustrated Man, and I am guessing that these are ones that didn't fit into The Martian Chronicles, which had been published a few years before. There are two excellent SF stories. The Rocket Man is about a family where the husband goes into space for months at a time and how his wife and child cope with his absence. Kaleidoscope is the story of an accident in space and the astronauts who survive briefly. Both are marred by bad science (as are many of Ray's SF stories), but the images and characters are so intense that the stories makes up for it.
The Highway is a flash story that gives a nice emotional smack in the head. Marionettes, Inc. is a very modern robot story that would not be out of place in a magazine today.
I liked most of the stories and only a few, like The Long Rain, didn't work for me. I have read the Veldt so many times (it was done on the TV series Bradbury Theater, too), that I don't really care for it. It is a proto-virtual reality story, but since it was written, VR stories are now classed with "I woke up and realized it was all a dream" stories.
Like October Country, the Illustrated Man is quintessential Bradbury. His later stories are less eerie, but still well crafted. I will be reading R is For Rocket, The Machineries of Joy, and A Medicine for Melancholy soon. These anthologies may represent more of a middle period in Bradbury's writing career. Since I haven't read any of these collections in decades it will be interesting to see how they compare to these early stories.