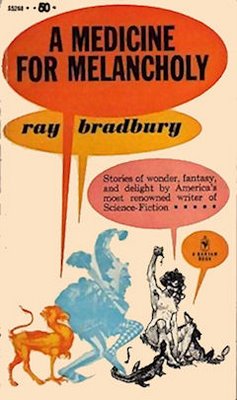 A Medicine For Melancholy is the seventh book by Ray Bradbury that I've read in my Read A Book By Bradbury series. It is quite possibly my favorite Bradbury collection.
The copy that I have a is much battered second edition of the Bantam Paperback from 1963. I am watching eBay for a first edition of the hardcover for my collection, but for now I have to be careful. This copy is 45 years old and it is shedding chips of yellowed paper every time I turn a page. I bought this new so I was reading it when I was 12 or 13 years old. The inside cover has my youthful signature – a style that I have not used in 40 years. I paid 50 cents for this when I was making about $2.52 a week delivering newspapers in Nyack. It was 20% of my weekly income (I never received an allowance. I asked for one once and my father just laughed at me.) I used to go to a corner store with an old fashioned soda fountain counter where I bought comic books or pulp magazines and vanilla ice cream soda. Once or twice a month I would walk downtown to the old Pickwick Book Shoppe where I bought this book.
A Medicine for Melancholy is Bradbury's best. It has my two favorite Bradbury stories: A Medicine for Melancholy and The Gift. The collection is from 1959, and most of the stories date from the late 50s. Bradbury is more mature, but has not yet lost his Lovecraftian sense of the eerie mood. He has not yet surrendered to his nostalgic obsessions and even his more maudlin stories all have a bite.
I found Medicine and The Gift in my high school English textbooks in the 1960s and they were like old friends. I was happy and proud that I was a Bradbury fan and that the class seemed to enjoy the stories as much as I had the first time I read them. I can't imagine these stories being in a textbook now. In fact, it seems from the general ignoramus tone coming out of school boards, that many would like to burn Bradbury's books never realizing how ironic that would be.
Only a few of the stories in A Medicine for Melancholy are Spec-Fic. Most are just good stories. There are a few nice Weird Tales like the wonderful story The Dragon, about two knights in the year 900 waiting on a moor for a fire dragon. When the dragon comes, it is a train with a steam engine that travels back in time every night when it passes through the heavy mists. Fever Dream is about a boy who has scarlet fever, but it is really an invading alien disease that takes over his body one small piece at a time. These are great stories.
In a Season of Calm Weather is the story of an art lover who meets Picasso on a beach. The artist draws a mural in the sand and for a brief moment the art lover owns a real masterpiece, and then the tide comes in.
I can't write a synopsis of each story, but I truly love this collection.
I almost missed my stop to get off the bus yesterday, because I was so lost in this book.