I have a story in the CyberTales Anthology. Please click below and buy one or two.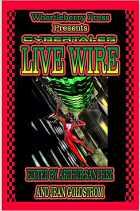 CyberTales — Live Wire
Presented by Whortleberry Press, here is a collection of 14 Fantasy, Science Fiction, and Horror short stories that push the boundaries of speculative Fiction. Using communication networks (such as the Internet, computer consoles, and telephone systems) as a common element, our writers have created memorable tales that are sure to delight, amaze, and astound. This is what the future of Speculative Fiction
is all about.