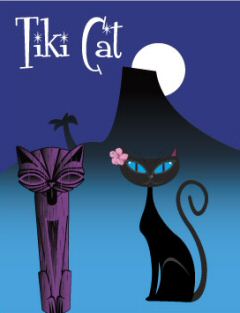 The very nice people at Petropics (Tiki Cat Food) saw my previous post about their cat food and how my cats scarf it up. Christine Hackett, the Tiki Cat President sent me a great email with advice about Max's health. I had expressed concern about allowing Willy to eat a fish based cat food. Willy has had urinary blockages from eating ordinary commercial fish cat food and once almost died.
Christine knows her stuff and here is what she wrote:
Seafood has the reputation for being high ash 1) because there is a lot of fish "meal" and other fish sources that contain a lot of bone which can cause a high ash rating which shows itself with a Magnesium content and 2) they add inferior food items that cats can't process which cause toxicity and excessive elimination load on the linings of the urinary system resulting in crystals and enlargement of the urethra.

Our recipe's are a low-acid recipe's, do not affect the PH system in the body, we only use whole seafood with no fish meal or other inferior by-products and is simply real, good food. The main culprit of urinary tract problems in pets is the dry food that was fed leading up to the problem. You will notice that even the "premium" foods are loaded with various grains, flours and meals which are not digestible for cats (therefore overloading their system) who are true carnivore's and also we leave the food out all day causing the cats body to alkalize the urine (cats should be fed high quality dry food 2 times a day only to allow their body to prevent alkalizing) creating crystals.

Our food is whole, pure seafood with no meal, no ground fish and bone to compromise the health of any of your cats so you don't need to protect Willy from eating Tiki.

I actually had a lot of customers concerned with feeding seafood to their elderly cats at a recent public show and they are all calling me for re-stocking after testing it with their cats and checking with their vets on the ingredients.
Christine has made Willy a very happy cat today.