October is Read a Book by Ray Bradbury Month
I am declaring October to be Read A Book by Bradbury Month!
Your task, if you choose to accept it, is to read a book or story by Ray Bradbury and blog about it. If you don't have a blog, send me an email and tell me what you think about the book, the man or his place in the world of words. I'll publish it here if you'll let me.
There has been no author who has influenced me more than Ray Bradbury. I have wanted to be writer since I read my first book, but Bradbury is THE writer. I spent several years trying to write like the master, and was only able to write a decent story after I gave up. I still have my Bradbury books that I started collecting in the mid 1960s.
I will read no other author this month. I have some collections of stories that I have not read, yet. I will reread Dandelion Wine for the first time in 30 years. I will try to remember what it was like to read The Gift, or A Medicine for Melancholy for the first time. Mr. Bradbury, here I go.
Each year in October I read Something Wicked This Way Comes. I have the preface memorized. Here are the first two paragraphs of the best book ever written:
First of all, it was October, a rare month for boys. Not that all months aren't rare. But there be bad and good, as the pirates say. Take September, a bad month: school begins. Consider August, a good month: school hasn't begun yet. July, well, July's really fine: there's no chance in the world for school. June, no doubting it, June's best of all, for the school doors spring wide and September's a billion years away.
But you take October, now. School's been on a month and you're riding easier in the reins, jogging along. You got time to think of the garbage you'll dump on old man Prickett's porch, or the hairy-ape costume you'll wear to the YMCA the last night of the month. And if it's around October twentieth and everything smoky-smelling and the sky orange and ash gray at twilight, it seems Halloween will never come in a fall of broomsticks and a soft flap of bedsheets around corners.
Ray Bradbury – Zen in the Art of Writing
It's not like anyone can really teach you how to write. The craft part of writing is like any other job. It's like driving a bus or programming java. It soon gets old quickly. I know a few writers who think that writing for money every day is deathly boring and soul sucking.
Creative writing, however, is one of those things that you are compelled to do, whether you want to or not. Zen in the Art of Writing is not a writing manual, a guide to writing, a book of tips and tricks or even a book advice to the wannabee writer. It is a book about Bradbury's love of writing.
Bradbury has written about a thousand words a day since he was 12. He didn't sell anything until he was 20, and he remembers clearly writing The Lake, his first real story, as an almost religious experience. He says the tears were streaming off the tip of nose and onto the typewriter as he finished.
Zen in the Art of Writing is a collection of ten essays and a preface written at different times in Ray's career. How to Keep and Feed a Muse, the earliest, was published in 1961. Run Fast, Stand Still, or, The Thing at the Top of the Stairs, or, New Ghosts From Old Minds, the most recent essay, was published in 1986. The book itself is from 1990. (My copy is signed by Bradbury). It is a short work, about 50k. I read most of it on the bus this morning.
I found all the essays worth reading, with the caveat that reading them won't tell you how to write. The essay entitled Drunk and in Charge of a Bicycle the most fun because it explained in a little detail how he came up with the ideas for some of his stories.
For instance the Foghorn, a compelling story, is described:
One night my wife and I were walking along the beach in Venice, California, where we lived in a thirty-dollars-a-month newlyweds' apartment,we came on the bones of the Venice pier and the struts, tracks, and ties of ancient roller-coaster collapsed on the sand and being eaten by the sea.
"What's that Dinosaur doing lying here on the beach?" I said.
Bradbury woke in the middle of the night with the answer. The Santa Monica Bay foghorn was sounding.
Of course, I thought, the dinosaur heard that lighthouse foghorn blowing, thought it was another dinosaur arisen from the deep past, came swimming for a loving confrontation, discovered it was only a fog horn, and died of a broken hearth there on the shore.
Bradbury wrote the story that night and sent it the next day to the Saturday Evening Post, where they bought it.
A few months later, my grandfather, who subscribed to the Saturday Evening Post, read The Foghorn and remembered it. Years later when Grandpa saw me reading a Ray Bradbury book, he asked me if I had read The Foghorn. "Good Story" he said.
One thing that Bradbury does that may help a writer is to start on a blank page doing word associations. He keeps a list of pregnant phrases that might lead to stories. He starts with one of them doing free associations of words and ideas and often wanders into a story. He follows the story while he is writing as though he were actually reading it and is often surprised at how it ends. Some of his best stories were written this way.
Bradbury writes that he typically does seven rewrites of a story. This, of course, was before word processors, so he just didn't edit a story, he started at the beginning and wrote the story again. He had the advantage of being able to borrow words, phrases and even paragraphs from the previous versions, but each rewrite was a creative experience where he would extend or compress or explore the story in a different way.
Bradbury also wrote that he sometimes writes a story in a fever, puts it in an envelope and mails it out immediately on finishing. He doesn't say which method produces the best stories.
Ray Bradbury – The Cat's Pajamas
I found The Cat's Pajamas at the Allendale Town Wide Garage Sale two weeks ago. The hardcover cost me only 50¢. It was a pretty good buy for four bits and just in time for October. I figure to read 12 to 15 Bradbury books this month.
The Cat's Pajamas was published in 2004 and half the stories are fairly recent and half are old, mostly unpublished, stories from early in his career. Ray has a cellar full of stuff that he has put aside. He claims he has written a thousand words a day since he was 12 and that he still has all of it.
I never thought that Ray Bradbury would have a writer's "trunk", that box of stuff that every writer has that he has written, but never sold, but I can understand now. Ray Bradbury writes what comes into his mind and not all of that is publishable. The first story, Chrysalis, not the one published in S is for Space (he liked the title so he reused it), but one sitting in a trunk, is about a black man who wants to be white. It is not an easy subject even now, but 60 years ago, no publisher would touch it with a ten foot pole.
I can remember finding out from my friend Billy See that he had a sunburn. He was black and I couldn't tell he had burned, but he showed me his back and the skin was peeling. Black people can be more sensitive to the sun than white people. I never dreamed that Billy could have a sunburn because I connected it to having a tan and Billy had a permanent tan. I remember coming back from a few weeks in South Carolina and Billy laughing at me, saying, "You're one of us, now" because I had a really dark tan from playing 12 hours a day on the beach.
Bradbury must have had a similar experience, wrote about it, and discovered that editors did not want to publish it. He found it in his trunk and luckily it appears now, more than 60 years later.
Many of the stories in this collection are like that. They are all interesting stories, but each has an element that has kept them out of print. Some of the early stories are not O. Henry-like in that they have emotional impact, but no real plot. I can see an editor who did not really know Bradbury rejecting these stories with a polite note and Ray putting the story away.
Every other story is a more modern story. These are better written and more story-like, but I mostly like the older stories, even with the flaws. The older stories have the emotional intensity, bright colors, scents and sounds, and the dark imagination that marks Ray's first 20 years. I did like the title piece. The Cat's Pajamas is very cute story of two people who find a stray cat and fall in love as they fight over who gets to keep it. It is beautifully written, as only Bradbury can write, but the execution is weak. It could have used some rewrites and could have had some stronger points here and there. The young Bradbury would not have let the story away in the version that's in the book. He would have worked it a little and given it much more impact at the end. As it stands, it is just cute, but not great. I am a cat lover, so I liked it. I am a lover of Bradbury's stories, so I liked it, but it does have its flaws.
Lastly, there are Bradbury's poems. They are not to my taste. I skimmed them, but would not recommend them, even to a lover of Bradbury stories.
If you like Bradbury, read this for the old stories, and enjoy most of the new stories.
Ray Brabury – Golden Apples of the Sun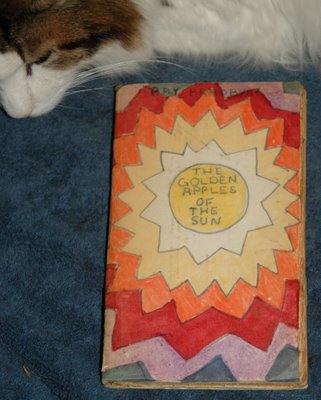 Ed Patnode, my high school English teacher gave me Golden Apples of the Sun when I was 17. Mr. Patnode was, as far as I could tell, a dead ringer for Robert Heinlein, except that he was a teacher. He had a crew cut and was gung ho about the Vietnam war and at one time was an Olympic ski jumper. He was also a nice guy. As far as I know he is still alive and well up in Lake Placid, New York.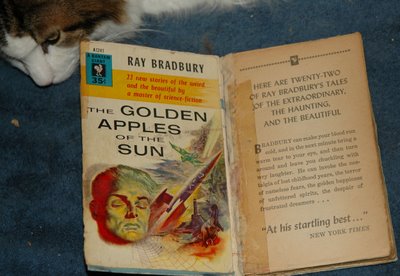 You often hear how teachers inspire you, but Mr Patnode wasn't like that. He just surprised me, like when he gave me this book. I think he knew that I was trying to write stuff, and that I liked Science Fiction, but it took me totally by surprise when he gave me this 1953 edition of Bradbury's Golden Apples of the Sun. It was falling apart and from his own personal collection. I was collecting Bradbury and I did not have a copy of this one. I was very happy to get it. I hope he knew how much I appreciated it. I am not very good socially and I may have just muttered "Thanks".
Once Mr. Patnode asked us to write a story based on a the last lines of Yeats' poem Under Ben Bulben, and when he returned mine to me he had written on the top that it was good enough to be published. I have cherished that encouragement down the years, even though I have yet to make a professional sale.
If the book was in original condition it would be worth about $50. The binding had come apart and I had to cut a piece of cardboard and glue it back together. I did a little hokey art on the cover with some magic markers. This is Bradbury's third collection. His first Collection, Dark Carnival was re-released as October Country and the second was The Illustrated Man.
As I read these stories, I am amazed at how much a part of me they are. Bradbury stories have entered my mind like a parasite that wraps itself around my ganglia and colors my memories.
Golden Apples of the Sun contains many of Bradbury's greatest hits. Perhaps all of you reading this will remember The Fog Horn, A Sound of Thunder, The Fruit at the Bottom of the Bowl, The Pedestrian, or The Flying Machine. These have been anthologized and some made into movies. Maybe you have forgotten The April Witch about an old woman who convinces a boy that she can make him invisible in order to have someone to talk to. The Great Wide World Over There about a woman who, with the help of a nephew, sends to all the addresses in the back of pulp magazines to receive free samples and information, just so she can get mail from the outside world to relieve her loneliness.
These are 22 of Bradbury's best. He was at the height of his writing ability when he wrote these. Hardly any of them are speculative fiction. Bradbury wrote Bradbury stories. He invented his own genre.
I remember now, writing stories when I was 16 and 17 years old. I was not trying to write Science Fiction then, because I had not yet figured out how. I was, however, trying to write Bradbury stories. As I read The Golden Apples of the Sun, I remember what I was trying to do. I wrote stories about a family finding bottles in the landfill, a man trying to buy firewood during a deadly winter, and a boy who could make it rain. I could not sell these stories because there was no magazine that would buy them, then or now.
Ed Patnode, when he gave me that old copy of Golden Apples of the Sun, probably changed my life, although I am sure that was not his intention. I remember going home and reading these stories until the book literally fell into pieces as I read it. I glued it back together and made the new cover, pasting the old one to the inside cover to protect it. I read it again and again until I found the 1967 edition and bought that. I wore out several of Bradbury's books in the next few years. I used to cover them with clear plastic "contac" to make them last longer.
If I didn't say it clearly at the time:
Thanks, Mr. Patnode, I really appreciated the book.
Ray Bradbury – Quicker Than the Eye
Continuing with reading only Ray Bradbury books in October – This is the fourth book that I've read. I am averaging a little less than a new book every two days (not counting weekends when I don't have much time to read).
I have the feeling that I've read some of the stories in Quicker Than the Eye. The stories were published in 1995 and 1996, but I don't remember where I would have read them. I don't read Playboy or American Way, but many of these appeared in F&SF and Omni, so I might have read them there.
Comparing these stories to the stories in Golden Apples of the Sun, you realize that Ray has mellowed over the years. There is no lurking danger or hidden fear in any of these stories. They, for the most part, are much happier and romantic than the earlier works. Many of the stories are downright maudlin (Maudlin: Extravagantly or excessively sentimental; self-pitying; Affectionate or sentimental in an effusive, tearful, or foolish manner, especially because of drunkenness).
To give you an example, in the story Another Fine Mess, Ray writes about a pair of ghosts haunting a stairway in Hollywood. The ghosts are Laurel and Hardy trying to move a piano. You can't be afraid of the ghosts of Laurel and Hardy. At the end, the two women who try to banish them invite them to come back once a year. Maudlin, I said. Maudlin, I meant.
There are other stories about the ghost of Bradbury's mother and the death of a dog, but the sweet sentimentality ruins the stories for me. I smile when I read them and I did enjoy them, but I am eager for the chilled spine or the goose bumps on my arm. I don't want these feel-good stories.
There are a couple of more chilling stories. Dorian in Excelsus is about what happened to Dorian Gray's portrait, but it is a one dimensional story where just the one thing happens and then it ends, no real plot to it, just an interesting idea. There is also The Finnegan about a hidden monster in the woods, but that too is over quickly and the final revelation is telegraphed a little too early in the plot to have an impact.
I am going back to his earlier works. I still have a couple of new books in the queue, but I want to cleanse my pallete a little and read some stories from Weird Tales before I get back to the more recent Bradbury.
Ray Bradbury – The October Country
This is the fifth Bradbury Book that I've read this October.
Bradbury's first collection of stories, Dark Carnival, was published by August Derleths' Arkham House. Derleth was a good writer of horror and weird tales in his own right and is famous for publishing H.P. Lovecraft's works. Dark Carnival's only printing was only 3,000 copies and it is the only early Bradbury book that I have not been able to collect. Dark Carnival is currently available on alibris.com starting around $700 for a poor copy and going on up to $8500 for a signed copy. When I started looking for Dark Carnival I could have bought it for about $50, but that was outrageously expensive 40 years ago.
Bradbury took Dark Carnival, did some edits on 15 of the stories and added 4 more stories. These were published as The October Country in 1955. (Dark Carnival would not be reprinted until 2001.) October Country is either Bradbury's first of fourth anthology, depending how you count Dark Carnival.
October Country has some of the master's complex, dark and compelling stories. These are the early works when he was targeting Weird Tales and still heavily under the influence of Lovecraft. These are not the lighter stories that he later sold to the Saturday Evening Post, although a couple of the October Country stories were published in Mademoiselle after Ray became famous.
My copy of October Country is dated 1964. At the time that I bought this I might have been 14 or 15 years old and this would be the year that I was reading a lot. My friend Phillip and I would cut classes go down to New York City where I prowled the used book stores looking for science fiction. That year I tried to average a book a day. I know that I had over 800 books in boxes in my room that I had read. I had a place in the woods where I made a hammock in the branches of a maple tree and I would hide there and read whenever I had a chance.
Re-reading the stories some 40 years later, I realize how much a part of me they are. I will have to read as many Bradbury stories as I can because I realize that there is a danger that my subconscious will cause me to write a story that Bradbury wrote, but my conscious mind has forgotten. My stories are often Bradbury stories in form and style. I, of course, do not have his mastery of the language. My stories are all more clumsy, plain, unadorned and direct. Nest of Flames, which is in the current Tales of the Talisman magazine is a good example. It is a concept story, with the plot devised to provide the impact of the vision that caused me to write the story.
Bradbury starts with an image in all of these stories. It is a moment, a feeling, or a idea which must have come to him fully formed. He then wraps a story about it. For example, the story The Wind is about the idea that the hurricanes and tornados grab the souls of those that they kill. The howling of the wind is the howling of the souls that have died by the action of the winds. Bradbury wraps a narrative around this, creating a character that has discovered the deadly nature of wind and another who is skeptical. He creates a plot that slowly convinces us of the validity of his image and then snaps the trap shut with a haunting ending.
These are "hard" stories to write. The books opening story has the image of a dwarf who likes to view himself in a mirror that makes him look tall. How do you wrap a plot about that? You naturally need more characters and they have to interact in some way and lead to a satisfying (if disturbing) ending. This is the craft part of writing. It is the part of writing that is hard to do.
Bradbury takes molten images and shapes them into driving short stories that all end with the characteristic Bradbury release of emotion. The poetic imagery is always delivered in a professional wrapper. Bradbury has the unique ability to drive his lesson home along with the intense mind pictures.
In contrast to his later stories, October Country is scary and eerie. He produces weird tales, in the sense that they would have appeared in the old incarnations of Weird Tales Magazine. I loved the story called The Cistern. The image is two dead bodies floating in the sewers. When it rains they float about, meeting in the phosphorescent corridors beneath the streets. The currents of flowing water press them together and they make love until the water flows out and they wait to meet again. It is a frightening and weird image. Bradbury does much more than deliver the image, though. He wraps a story around it of a lonely girl who dreams of the lovers in the cistern, imagining how pure and unselfish the love can be. One night, as the heavy rains fill the underground drains, she disappears and the last sound heard is the clanging of the manhole cover as it closes over her.
Another favorite of mine is There Was an Old Woman. It is the story about a woman who decides that death is a cheat. It is not fair that we live our allotted time and then die. She decides to live forever. Death, however, comes in the form of a young man who cheats her out of life with a kiss. She is so outraged that she goes to the funeral home to get her body back. It is eerie, but fun. I have known many feisty old ladies and the story seems to be very much in character with what I have learned about them.
If you read only one Bradbury collection, October Country should be the one you try. You'll be hooked. The other collections all have their moments. Nearly all of the early Bradbury is worth reading. I think, though, that October Country contains the stories that I most identify with Ray Bradbury. All of the stories were written before his 26th birthday and all of them are true masterpieces.
Ray Bradbury – The Illustrated Man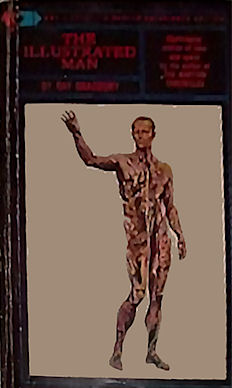 The Illustrated Man is the sixth book in my Read Bradbury in October series.
The Illustrated Man is one Bradbury book where I am sure of the time that I first read it. The book cover at left is from the Bantam Pathfinder edition of 1965. I know that I bought this one new in late 1965, when I was 14, to replace the one that I had lost at Bard College. (The image is the best I could find on the Internet – I don't scan these.) I took an earlier copy with me to Bard, where I spent two weeks on the campus. It was a camp run by the Episcopal Church and the price was right so my mother sent me off. The kids spent the day swimming, playing ping pong and pool and there were events every night. We spent some classes in the morning learning about religion, but nothing too intense. Episcopalians are about as far from the religious right as you can get. I remember discussing the big bang theory and evolution with a very cool Episcopal monk, late into the warm August nights.
The Illustrated Man was my Bible in 1965, in spite of the priests who had long philosophical discussions with me. I remember feeling mild stirrings of religion then, but I managed to throw it off soon enough. I still have fond memories of Evensong, a service that was held every night around 8 just as it started to get dark. It was sung using the Old English version of the prayer book and was very beautiful. I like the Episcopal Church and on those odd days when I feel there might actually be a loving God, I count myself an Episcopalian. If you have kids, send them to the Episcopal Sunday school and they will learn about religion without being brain-washed.
I remember that I lost my copy of The Illustrated Man at Bard that summer of 1965. I say "lost", but I am sure one of those God-loving, holier than thou, died in the wool Christian brats stole it from me, may they burn in hell. I covered my new copy with clear plastic "contac" because I carried it around in my back pocket and wanted it to last longer than the last one had.
I must have read the stories in the Illustrated Man a dozen times, and then I put it away. I am not sure why, but I haven't read most of these stories in 40 years. I fondly remembered all of the stories, but there were a few that I did not recognize right off the bat, and didn't recall until I had read a few pages. This is Bradbury's second anthology, published in 1951 when Ray was about 31 years old. These are mostly stories from before Bradbury was famous and many reflect the influence of Lovecraft, Algernon Blackwood, Poe and Ambrose Bierce. There are a scattering of Science Fiction stories, but these would hardly be called "hard science".
There is a wrapper story that links all the stories in The Illustrated Man. A man meets the illustrated man in the woods of Michigan. The illustrated man has pictures all over his body that portray stories and each story in the book is a picture from the Illustrated Man's body. There is an amorphous area on his back that begins to take form. This area, if watched long enough, will show the fate of the person who looks on it.
There are several Mars stories in The Illustrated Man, and I am guessing that these are ones that didn't fit into The Martian Chronicles, which had been published a few years before. There are two excellent SF stories. The Rocket Man is about a family where the husband goes into space for months at a time and how his wife and child cope with his absence. Kaleidoscope is the story of an accident in space and the astronauts who survive briefly. Both are marred by bad science (as are many of Ray's SF stories), but the images and characters are so intense that the stories makes up for it.
The Highway is a flash story that gives a nice emotional smack in the head. Marionettes, Inc. is a very modern robot story that would not be out of place in a magazine today.
I liked most of the stories and only a few, like The Long Rain, didn't work for me. I have read the Veldt so many times (it was done on the TV series Bradbury Theater, too), that I don't really care for it. It is a proto-virtual reality story, but since it was written, VR stories are now classed with "I woke up and realized it was all a dream" stories.
Like October Country, the Illustrated Man is quintessential Bradbury. His later stories are less eerie, but still well crafted. I will be reading R is For Rocket, The Machineries of Joy, and A Medicine for Melancholy soon. These anthologies may represent more of a middle period in Bradbury's writing career. Since I haven't read any of these collections in decades it will be interesting to see how they compare to these early stories.
Free Ray Bradbury Story MP3 Files
Bradbury's stories appeared in a 1950s radio show called Dimension X Radio Drama. For some reason these radio plays are not covered by copyright and are in the public domain. Since they are derivative works, I somehow doubt this. On the other hand, the audio from these radio dramas are so wide spread and available free from so many sources that they have entered the public domain.
Here are some Bradbury stories. Listen to these on your computer or download them to your iPod or iPhone and listen on your way to work.
And the Moon be Still as Bright
Ray Bradbury Prune Commercial
Since October is Ray Bradbury month…
Ray Bradbury – A Medicine For Melancholy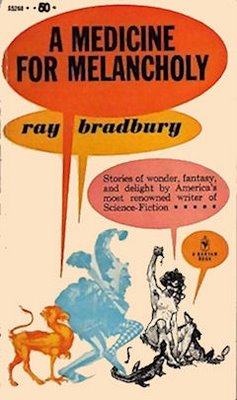 A Medicine For Melancholy is the seventh book by Ray Bradbury that I've read in my Read A Book By Bradbury series. It is quite possibly my favorite Bradbury collection.
The copy that I have a is much battered second edition of the Bantam Paperback from 1963. I am watching eBay for a first edition of the hardcover for my collection, but for now I have to be careful. This copy is 45 years old and it is shedding chips of yellowed paper every time I turn a page. I bought this new so I was reading it when I was 12 or 13 years old. The inside cover has my youthful signature – a style that I have not used in 40 years. I paid 50 cents for this when I was making about $2.52 a week delivering newspapers in Nyack. It was 20% of my weekly income (I never received an allowance. I asked for one once and my father just laughed at me.) I used to go to a corner store with an old fashioned soda fountain counter where I bought comic books or pulp magazines and vanilla ice cream soda. Once or twice a month I would walk downtown to the old Pickwick Book Shoppe where I bought this book.
A Medicine for Melancholy is Bradbury's best. It has my two favorite Bradbury stories: A Medicine for Melancholy and The Gift. The collection is from 1959, and most of the stories date from the late 50s. Bradbury is more mature, but has not yet lost his Lovecraftian sense of the eerie mood. He has not yet surrendered to his nostalgic obsessions and even his more maudlin stories all have a bite.
I found Medicine and The Gift in my high school English textbooks in the 1960s and they were like old friends. I was happy and proud that I was a Bradbury fan and that the class seemed to enjoy the stories as much as I had the first time I read them. I can't imagine these stories being in a textbook now. In fact, it seems from the general ignoramus tone coming out of school boards, that many would like to burn Bradbury's books never realizing how ironic that would be.
Only a few of the stories in A Medicine for Melancholy are Spec-Fic. Most are just good stories. There are a few nice Weird Tales like the wonderful story The Dragon, about two knights in the year 900 waiting on a moor for a fire dragon. When the dragon comes, it is a train with a steam engine that travels back in time every night when it passes through the heavy mists. Fever Dream is about a boy who has scarlet fever, but it is really an invading alien disease that takes over his body one small piece at a time. These are great stories.
In a Season of Calm Weather is the story of an art lover who meets Picasso on a beach. The artist draws a mural in the sand and for a brief moment the art lover owns a real masterpiece, and then the tide comes in.
I can't write a synopsis of each story, but I truly love this collection.
I almost missed my stop to get off the bus yesterday, because I was so lost in this book.
Ray Bradbury – The Machineries of Joy
The Machineries of Joy is the 8th Bradbury book that I've read this month. I have handed out five Bradbury books to friends and I have received nothing in return. I hope at least one of my readers is actually reading Bradbury along with me. I have only a few more days of reading left in October and I expect that I will have read 11 or 12 Bradbury books by Halloween.
The Machineries of Joy was published in 1964 and most of the stories date from the early 1960s. Bradbury's writing is deeper, more philosophical and more complex. The simple image based stories have been replaced with complicated idea based stories. This is perhaps one of the last great collections by Bradbury. After Machineries of Joy comes I sing the Body Electric in 1969, which I will read soon. After that, Bradbury's output is more predictable and nostalgic. He revisits themes and makes new collections of old stories, but never reaches these heights again.
I bought Machineries of Joy when I was either 14 or 15. I can tell because it has the clear plastic covering that put on my "regular books". I never went anywhere without a book in back pocket. I bought a roll of clear con-tact and covered about 20 books. I chose my favorites like Tolkien, Heinlein and Bradbury.
I think my favorite story is A Miracle of Rare Device. The title comes from a line from Coleridge's Kubla Khan. A couple of near-do-well drifters discover a mirage in the Arizona Desert, put up a fence and charge admission to see it. The mirage disappears when a competitor cheats them out of their cash cow. It turns out that you have to believe in the miracle to be able to see it. It must have been a difficult story to write, yet Bradbury pulls us through with interesting characters, an interesting plot and a very satisfying ending. I like to think that I could have written some of the early Bradbury stories, but Miracle is so far into the rarefied realm of genius that all I can do is read it with awe.
Not all the stories are that good. Some, I felt, Bradbury knocked off in one hung over session, but most of these are great stories, if not as accessible as some of his earlier works. Ray seems intent on making us think out way through the idea before he gives us his wonderful emotional kick in the butt.
Lorelei of the Red Mist – Brackett & Bradbury
Leigh Brackett, know as the Queen of Outer Space, was writing space opera stories for lurid pulps like Planet Stories in the 1940s. She wrote a hard boiled detective novel in 1944 and when William Faulkner was having trouble with the screen adaptation of Raymond Chandler's The Big Sleep, Howard Hawks told his secretary to call "this Brackett Guy" to help out.
Bracket was married to SF writer Edmond Hamilton and they lived near Ray Bradbury. They were friends and drinking buddies of Ray. When Brackett had to stop writing SF to work on The Big Sleep, one of the best detective movies ever made, Bradbury must have talked her into letting him finish Lorelei of the Red Mist.
The first time that I read this, I wondered how much of the novella was written by Leigh Bracket and how much was written by Bradbury. On the bus this morning I read the story after a gap of at least 30 years. It was very obvious how much was Bradbury's and how much was Brackett's.
Brackett at this time was still writing in a very over-the-top pulp style. The rugged athletic men were mostly naked and the beautiful women did not wear anything above their waists and had "flat hips". There is a race of sea people who can be distinguished because their women have green nipples. The story is absurd and concerns an earth man who's mind is placed in a Venusian warrior's body who is in the middle of a war being lead by a beautiful (but never fully clothed) sorceress against noble human types.
About 10,000 words through the story, Bradbury picks up with smoother language, longer sentences and some actual description of scenery, people and feelings (in addition to lust). Brackett was supposedly unhappy with Bradbury's treatment of the female characters and wrote another version of the novella.
Although the story is great fun and at about 25,000 words, a good quick read, it is hardly anything other than a tossed away story which would have been long forgotten if Brackett and Bradbury had not gone on to do better things. Brackett would prove that a woman can write better SF than most men and Bradbury would recreate SF and the weird tale as literature.
I read Lorelei of the Red Mist in a collection called Three Times Infinity, which also includes novellas by Theodore Sturgeon and Robert A. Heinlein. The Sturgeon story The Golden Helix is one of his best and has been anthologized extensively. The Heinlein novella Destination Moon, is not Heinlein's best, but is notable because it was written from Heinlein's screenplay of the movie Destination Moon. Destination Moon is not in any of the early Heinlein anthologies and Three Times Infinity was the only place where you could read it for a long time. Lorelei is, by far, the weakest of the three.
I have been trying to buy old Planet story issues from the 1940s where Bradbury cut his teeth on SF, but they always go for $40 or $50 each and this is too much to spend on an old magazine, not matter how many half naked women are on the cover.
The Vintage Bradbury
There are only three stories in The Vintage Bradbury (1965) that were not in the previous anthologies. The Vintage Bradbury is the first (of many) Bradbury greatest hits collections. This one dates from 1965 and I remember being disappointed that there were only a few new stories. The stories are not really new, just not previously anthologized.
My favorite is the story The Illustrated Man. The collection called The Illustrated Man does not contain a story called the Illustrated Man, which in my opinion is a strange thing. The story is an expansion of the idea that appear as the interstitial material in the collection and is pretty good. I like the last view of the Illustrated man's final illustration as it appeals to my math sensibilities.
There is a Martian story called Night Meeting which is better than many of the Mars stories in or out of The Martian Chronicles. It is about a meeting between a Man and a Martian across millions of years. There is also a Mexican story And the Rock Cried Out. I am not a big fan of Bradbury's Mexican stories, but this one has a very good premise. What would happen if Americans suddenly become the world's illegal aliens without the mighty US government to protect our interests? I liked it.
The rest of the stories, Bradbury's Greatest Hits, are diminished by the fact that they appeared everywhere. Each of the stories has been anthologized and adapted to radio or TV many times and I've read them enough that they have lost their appeal to me. Rather than read the Vintage Bradbury, I would suggest reading Some of the previously discussed anthologies or jump right into Martian Chronicles or Dandelion Wine.
There is an Introduction by Gilbert Highet that contains nothing new or interesting and can be skipped.
I am counting this as Book #10 in my October is Bradbury Month series, even if it only had three new stories. These three stories are worth seeking out the Vintage Bradbury. I don't think that they can be found in other collections.
Ray Bradbury – The Martian Chronicles
Allegory: A figurative work in which a surface narrative carries a secondary, symbolic or metaphorical meaning.
The Martian Chronicles, the 11th book by Bradbury that I've read this month is not really a novel and is more than a collection of short stories.
It is not a novel because it does not have the plot of a novel or even a unifying theme. It is a collection of stories about an Allegorical planet Mars that have an overall chronology, but lack a single protagonist or consistent central idea.
Mars is never the planet Mars in these stories. Mars always represents Waukegan Illinois, or the western frontier, or the evolution of mankind, or a grand dream, but Mars is only Mars in the sense that it provides the allegorical element for a statement on the human condition. The Martians, when they appear are not aliens, but symbols of human ideas.
Viewed as allegory, The Martian Chronicles is a deep investigation into the human spirit using images, and memes that appeared in the pages of the science fiction pulps of the 1930s and 40s. Because of this transcendental treatment of such a tawdry literary form, The Martian Chronicles has become a great piece of literature quite by accident. Bradbury was known only as a writer that appeared on the pages of Planet Magazine and Weird Tales and would have been known as a better than average writer of odd stories until the Martian Chronicles was recognized as been much more than it should have been. After the Martian Chronicles, Bradbury was treated seriously as a great American writer.
The ideas in the Martian Chronicles are fragmented and do not always fit together. They were written and published separately and sold to SF magazines. They are pulled together with short interstitial chapters that set the stage or attempted to unify the themes of the book. Separately the stories are each an interesting story, if one understands them to be fantasy and not scientific. Bradbury surely knew that Mars was cold, dead and airless. He chose to make his Mars closer to Edgar Rice Burroughs' Barsoom than a scientifically accurate reality. Reading the stories can jar you back and forth from one idea to another. If you try to force the variety of ideas, themes and images into a an overall unity, it distracts from the enjoyment of the book.
I now read the Martian Chronicles as separate stories. Some are good, some not so. I find it difficult to see the book as a novel, though. One of the stories, There Will Come Soft Rains, I find annoying as it doesn't fit the rest of the book. It has no characters and is just a vignette, yet it is one of Bradbury's most often anthologized pieces, because it does contain some of his most powerful imagery.
The copy of The Martian Chronicles that I have was published in 1962 and it is quite probably that I read it first when I was eleven or twelve years old. I read it a few more times, but I can remember being frustrated with the book because so many of the stories were so obviously not anything like Science Fiction. I found some of them implausible, and I was not able to suspend disbelief. Now, I see the stories for what they are and what they are meant to be. Once you get the idea that Mars is never really Mars the book is a much better read.
Ray Bradbury – Something Wicked This Way Comes
This is my favorite book. I've been reading it in October since I was 16. My edition is from 1967. I finished it for the forty-second time this morning.
The movie was dreadful, did not follow the original idea, and I think may have caused many people not to read the book. Please do not watch the movie.
The beauty of the book is in its language, something that no film can capture. It is the most poetic of Bradbury's works. As I read it, I kept noting a paragraph here and there that I thought would be good to quote, but there were so many of them that I would have had to transcribe most of the book.
Here is one that I liked. Madam Tarot, the Dust Witch, flies in a balloon looking for Will and Jim. The boys wake up in the night and look out the windows in their neighboring houses. They both feel her coming for them. From page 104:
The Dust Witch.

The Witch who might draw skulls and bones in the dust, then sneeze it away. Jim looked to Will and Will to Jim; both read their lips: the Witch!

But why a wax crone flung out in a night balloon to search? thought Will, why none of the others, with their lizard-venom, wolf-fire, snake-pit eyes? Why send a crumbled statue with blind-newt lashes sewn tight with black-widow thread?

And then, looking up, they knew.

For the Witch, though peculiar wax, was peculiarly alive. Blind, yes, but she thrust down rust-splotched fingers which petted, stroked the sluices of air, which cut and splayed the wind, peeled layers of space, blinded stars, which hovered and danced, then fixed and pointed as did her nose.

And the boys knew even more.

They knew she was blind, but special blind. She could dip down her hands to feel the bumps of the world, touch house roofs, probe attic bins, reap dust, examine draughts that blew through halls and souls that blew through people, draughts vented from bellows to thump-wrist, to pound-temples, to pulse-throat, and back to bellows again. Just as they felt that balloon sift down like an autumn rain, so she could feel their souls disinhabit, reinhabit their tremulous nostrils. Each soul, a vast warm fingerprint, felt different, she could roil it in her hand like clay; smelled different, Will could hear her snuffing his life away; tasted different, she savored them with her raw-gummed mouth, her puff-adder tongue; sounded different, she stuffed their souls in one ear, tissued them out the other!
It gives me the shivers.
Something Wicked This Way Comes is the best book that I have ever read. It tops all the others, and I have read many thousands of books.
Read it! Read it! Read it!
Bradbury Odds and Ends
I've finished reading Bradbury Books for a while. I read 11 books (I didn't count Vintage Bradbury because it only has a couple of new stories).
Here are two books with intriguing titles published in the UK. The titles are different, but the The Silver Locusts is really Martian Chronicles and The Day it Rained Forever is The Illustrated Man without the extra story arc.
I bought The Silver Locusts in the old Werewolf Book Shop, back when I was in college and was very disappointed that I had spend a quarter for a book I already owned.
Bradbury's stories were made into Comics, but they were so intense that they were banned. They were republished in the 60s.
This one was a gift and it was supposed to be autographed by Bradbury. It is not Bradbury's signature (I have several authentic signed Bradbury books). I later heard from the Washington State District Attorney and the people were convicted of fraud.