Archive for April, 2012
Friday, April 27th, 2012

The space Shuttle Enterprise passed over NYC today, and Justine grabbed a picture with her cell phone.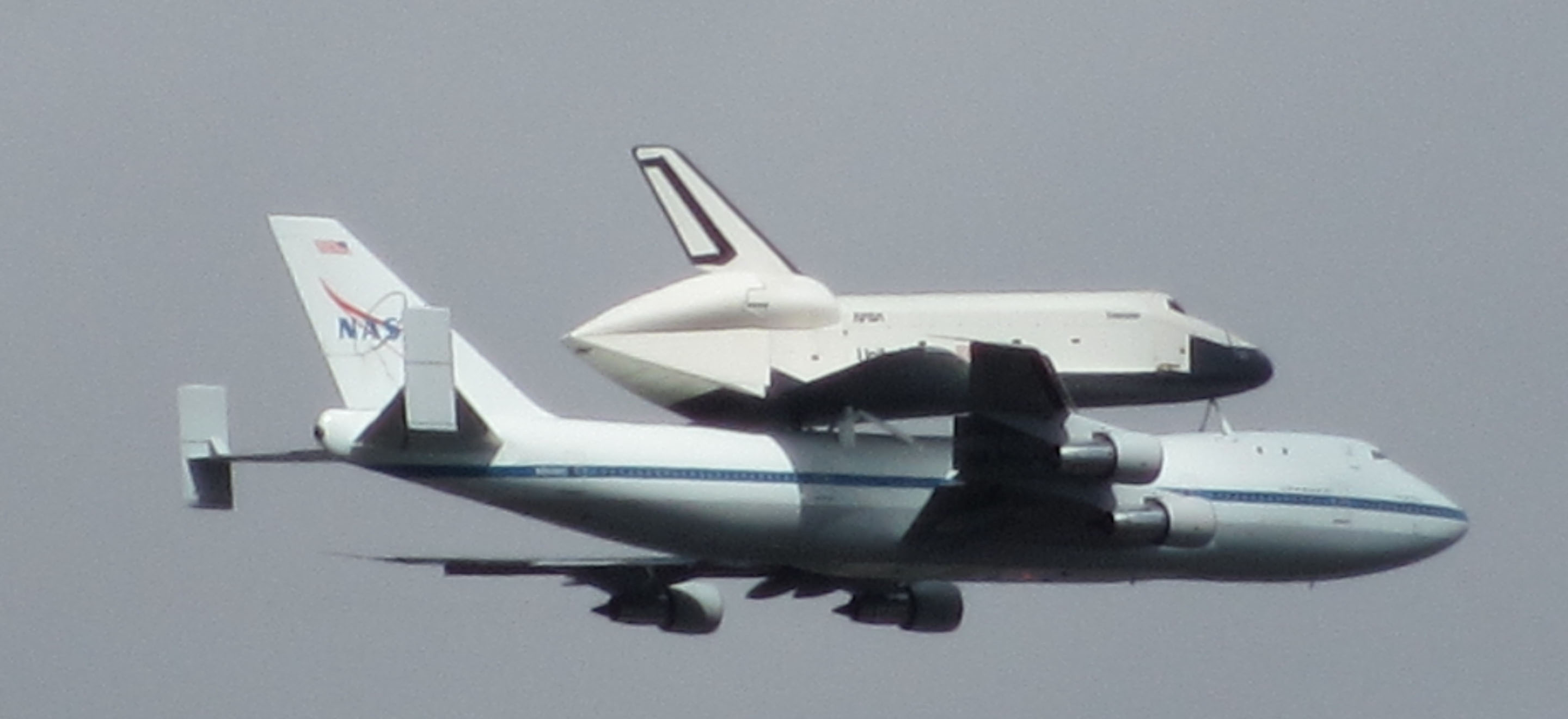 Friday, April 27th, 2012

I am reading the 1912 edition of Play-Making by William Archer. It is a nuts and bolts guide to writing plays by a premier critic. It is very readable, even though I have read only a few of the plays discussed, and I would recommend it to all writers, not just playwrights.

The best quote from the book so far is in a discussion of the Obligatory Scene or scène á faire. This is a scene promised to the audience by events or situations in the acts leading up to it. It is different than the climax in that it can occur more than once, but it is a pivot point of a play. Archer argues that it is not something that just happens to the characters. It must be something that the characters do. It is the essence of drama.

Archer: Drama means a thing done, not merely a thing that happens; and the playwright who lets accident effect what might naturally and probably be a result of volition, or in other words, of character, sins against the fundamental laws of his craft.

This is an extremely important principle in all fiction writing. This principle cannot be broken without harming a story.
Tuesday, April 24th, 2012

Here's another one of those Science Fiction readings that I won't be able to make.

John Shirley, one of my favorite writers, will be reading May 1 down in Soho. Unfortunately it is on Tuesday and it starts at 6:30 which makes it nearly impossible for me to get to. Although only about 30 miles away, the whole of NYC lies between the place and me, and it takes hours to get there.

Here is what the announcement says:

John Shirley is some f*cking guy who walked in off the street every day for a
week, smelling of beer and vomit and old cigarettes, and saying that if I didn't
let him read he was going to pee in the doorway of the venue every night.
Finally he convinced us. He is also known as the winner of the Bram Stoker Award
for his story collection Black Butterflies — which was also chosen as one of
the Best Books of the Year by Publisher's Weekly — and is the author of the
cyberpunk trilogy A Song Called Youth, recently reissued in an omnibus by Prime
Books. He was one of the original cyberpunk novelists with William Gibson, Bruce
Sterling, Rudy Rucker, Pat Cadigan, and Lew Shiner. ("John Shirley was
cyberpunk's patient zero, first locus of the virus, certifiably virulent. A
Carrier."­William Gibson)

Where:
The SoHo Gallery for Digital Art
(www.sohodigart.com) is dedicated to re-establishing
SoHo as an international center for the development of new artistic forms,
concepts and ideas. A screens-instead-of-canvases approach allows a wide
selection of art from around the world which would otherwise never make it to
the City. The SGDA is available for private gatherings and events of all kinds.

The SoHo Gallery for Digital Art
138 Sullivan Street (between Houston & Prince St.)
Tuesday, April 24th, 2012

The following Flickr Gallery is a list of roadside stands for your approval.

I am researching roadside stands. I will build one soon. I need some good weather and that doesn't look like it will occur for another few weeks.

Roadside Stands, a gallery on Flickr.
Monday, April 23rd, 2012

I'm sitting at my desk, back at my job. The contract dispute is over and my contract has been approved for another year.

The whole time that I was out of work, my back and legs did not bother me much. As soon as I sit in this chair, all the pain comes back. Either I need a new chair or I have to quit.

I lost 12 pounds in the three weeks that I was out. I am already gaining it back, I think.
Friday, April 20th, 2012

My story "Mizuki" is at Freezine. Warning, it is not safe for work.
Thursday, April 19th, 2012

My boss just called and asked me to return to work on Monday. I could have used another week, but my bank account would have suffered.

I completed the Chicken coop, except for some minor finish work. I did not write any short stories, fix any amps, restore any mics, or read any books. I worked in the backyard the entire time, and fell exhausted into my TV chair at then end of each day. My back and knees are in pain, and my arms are so sore from hammering, sawing, drilling and toting that I can hardly lift a hand to scratch my head.

Good things about being unemployed:

1. No need to shave.

2. Sleep until 8AM

3. No stupid meetings.

4. Take a few minutes off to watch the chickens.

5. Able to check the bees whenever I get bored.

6. Collecting unemployment checks.

7. Visiting my friends at Home Depot twice a day.

8. Drinking beer on my 3pm coffee break.

Lots of other minor things.

At least I will be doing more blogging now that I will be at work sitting in front of a computer 8 hours a day.
Monday, April 16th, 2012

I've been at home for two weeks now, while the county irons out their problems with issuing new contracts. I am supposed to return to work on the 23rd.

I am nearly done with the Coop. You can see it at my chicken blog.

I have been calling it the Taj-Ma-hen, but I am not sure that I like that title.

Don gave me a list based on the fact that it looks like a New England country inn.
The Egg Drop Inn
The Cluck and Peck Inn
All Cooped Up
The Cock and Pullet
Free Range Inn
The Yokes on You Inn
And from Don's Wife, the Beak Wood Manor.
I've been thinking about calling it:  Castle Chickenstein.
But, I think the best idea is Palais de Poules. (palace of hens).
Friday, April 6th, 2012

I make the illegal right turn from Snake Hill every morning and the illegal left turn every night. I was stopped once a couple of years ago by a cop and given a warning. It is a dumb place for a no turn sign. There is no safety or traffic reason for it.
I may show up to the board meeting with a sign that says "Free West Nyack – Allow us to Turn – We shall overcome".

West Nyack Traffic Signage Changes Considered By Town Board – New City, NY Patch.
Monday, April 2nd, 2012

The Chickens have arrived and Ollie is quite interested.

Sunday, April 1st, 2012

March was a very slow month for sales. I sold only two paperbacks and only 13 ebooks. 9 books were sold through Kindle and 3 through Smashwords. One ebook at B&N. Very disappointing.