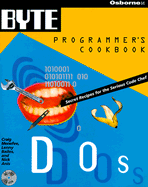 This book lists me as an author back in 1994, and I contributed a very tiny amount in the planning stages, but in reality, my name should never appeared on it. A guy named Nic Anis wanted to use my name because I was well known as a shareware author at the time. I signed the contract and then never heard from him again.
I seem to remember that the CD has a load of my stuff on it, but Craig Menefee was a good programmer and probably had some good stuff on the disk, too.
I always felt bad about how it turned out. The book came out and I got a copy, but I had very little to do with its publication. I was searching for people who were pirating my other books and I found this today. Somebody is selling it for $77.  (That cover is simply dreadful!)
Byte's DOS Programmer's Cookbook by Keith Graham, Craig Menefee (Used, New, Out-of-Print) – Alibris.