Archive for November, 2010
Monday, November 29th, 2010

Skip usually sends me stuff that I delete right away because if anyone were to walk by while I was looking at it, I'd get fired. This is very un-Skip like.

He send me this report on tagging and counting bears in North Ontario. The baby bears are very cute.

This is a good way to start work after a long and fattening weekend.
Saturday, November 27th, 2010

Rudy Rucker has a great blog where he discusses Math, his Science Fiction, Art, and all the things that fill the cracks in between.

Rudy has written a fascinating blog post about the theories of a fascinating man. Stephen Wolfram and Rudy are developing a theory of computation that has classical mathematicians and computer scientists going nuts. It involves the very nature of computation. Rucker and Wolfram show that nature itself as a computational device. The universe is computer.

I find this very interesting and I find myself thinking about it at odd times. I am afraid it will result in me writing another story that nobody will understand.

Rudy's Blog » Blog Archive » Wolfram's Teachings. Natural Language..
Friday, November 26th, 2010

Each year it's fun to buy this early wine. Nouveau means New. It is a 2010 wine that is not aged so it tastes very much like grape juice with some alcohol. I have described it as grape Nehi with a splash of vodka. They squeeze the grapes, let them ferment a bit and the bottle them. Two months ago this wine was grapes on the vine.

It is a fun wine, and us usually not very good. For me it is a Thanksgiving tradition to sample the first bottle of Nouveau with the turkey.

This year the Beaujolais Nouveau is just dreadful. I can't remember a year where it was worse. My reaction was yuck when I tasted it. The first shipments of nouveau are usually not as good as later ones, but you'd have to get a lot better for this year's batch to be drinkable.

I have two bottles left and I will drink them – bad wine is better than no wine. The first shipments are shipped by air and the later bottles show up in early December might be shipped on boats. When the next shipments appear in about two weeks they will be a little cheaper and possibly better tasting.

Last year the second wave of beaujolais nouveau was pretty good and I bought a case which I drank well into January. This year I don't think I'll be going for a case.
Thursday, November 25th, 2010

I am counting on everyone getting a B&N Nook or an Amazon Kindle for Christmas and then going out to buy books on December 26. I am ready. My book is now out as Amazon Kindle, B&N Nook, and at Smashwords in a bunch of formats, including plain text.

I am charging more than the average book. I don't believe that people buy books based on price. People look at a book and if the price is what they consider reasonable they buy it. All books are not the same and most people will not buy the cheapest book on a site. On the other hand, I am charging more than average, so there may be a penalty to pay.

At all of these sites I make about $5 or more a book when it sells. If I charged 99¢ for a book I'd make a quarter. I'd have to sell 20 books at 99¢ to make what I would make in one sale at $8. It seems reasonable, although counter intuitive, that higher priced books make more money than bargain books.

By the way, if you read this blog or friend me on FaceBook, just send me a message and I'll send you the link so you can read the book for free. Let strangers pay for the book, not my friends.
Tuesday, November 23rd, 2010

I like hard edged blues and heavy rock. I have no idea why I like Sophie Madelaine. I think it is my inner hippie remembering summer days in 1968.

The CD will be available on Nov. 30 (just in time for Christmas) at:  http://www.pledgemusic.com/projects/sophiemadeleine. I don't know how this works, but in involves pledging 8 pounds which is ??? in real money. Sophie explains it on the page above.

Her is Sophie's latest.

Saturday, November 20th, 2010

I have a version of my book for Amazon Kindle after all this time. Please do not buy it. Email me and I'll send you a copy in MOBI format so that you can put it on your Kindle. The Kindle thing is an just an experiment. The paperback version will be ready in another week. If anything you might consider buying that.

The only thing wrong with it now is that I uploaded a temporary image for the book, just as a placeholder and now I want the cover as the book image. You can't do that with amazon software and I am waiting for an amazon associate to fix it for me.

Click the image to see my Kindle book page, but do not click the "buy' button.
Friday, November 19th, 2010

This is the fourth try publishing to Amazon Kindle. I think I finally got it right.

There are secrets to formatting things in Kindle, and they are not written down all in one place. I have been gathering bits and pieces. The secret is to download Mobipocket Creator software and use that as the last step. The software lets you include images and tweak the way the ebook works.

Here is the cover  that I finally made: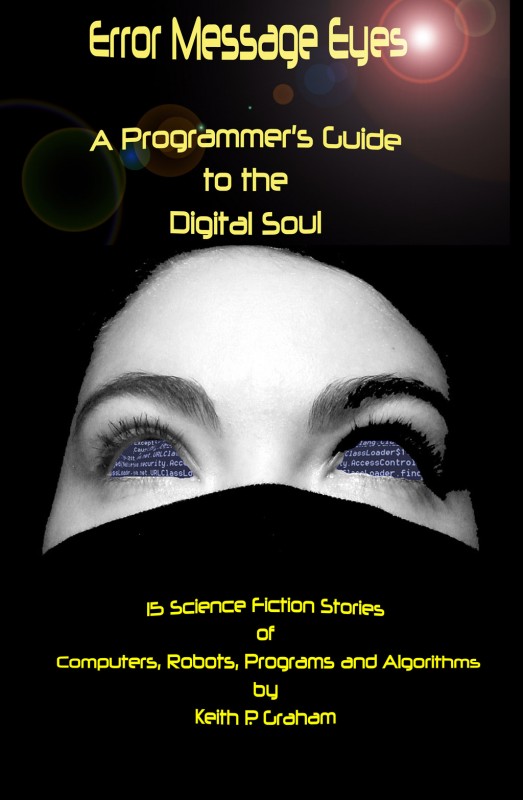 Friday, November 19th, 2010

Every Friday I get an email from USAJobs informing me about new jobs at NASA. I have no hope of getting a job at NASA as the incoming congress will gut the agency. To them there is no reason to explore space now that the second coming of Jesus is near. I usually ignore these emails.

Today, in spite of the futility, I applied to one of the NASA jobs listed that I would be just right for. I have the experience and the education necessary. I am willing to work in Washington DC, although I might have to rent a small flop so I could stay in DC during the week (DC is one of my favorite cities, rated right between Austin and Chicago). It pays much better than I get now.

According to Heinlein there are three departments in the Army. One is the Dirty Tricks department, another is the Practical Jokes Department, and the third, which is made up of one elderly GS-9 clerk out on sick leave is the Fairy Godmother Department. This is as true in civilian life as it is in the service.

I am hoping that the woman who works in the Fairy Godmother Department is feeling better. I am sick of Dirty Tricks and Practical Jokes. I'd really like working at NASA.
Sunday, November 14th, 2010

We've had a table in the driveway selling honey on the honor system. It's been two weeks and we've been selling a couple of times a week this way. I worried that someone would take off with the whole basket, but so far everyone has been honest.
Sunday, November 14th, 2010

I submitted to a couple of eZines that I did not know much about. I haven't heard back, but it hasn't been that long. I thought I'd check them out to see how they are doing and there is NOTHING happening at these websites. The have not changed their site in months. One is supposed to be a quarterly zine, but the latest issue is April and the other is supposed to go live in January, but their last blog entry was months ago when they asked for slush readers.

Neither site has any recent action at Duotrope or the Black hole. I can't find anyone who is blogging about these sites.

I am worried that I killed them. There was a time where every time I sold a story the venue closed immediately afterward. I had a friend who had a story that was accepted 5 times and each time the eZine folded before it could be published. I am worried that I maybe this is happening to me.

Ezines are not stable ventures. People start them, find out how much work they are, and how little they pay, and then give up.

If I sell more than 10 books on Amazon, that's it for me. No more submissions. I will write enough to make my own collection and sell it on eBay. Perhaps I'll develop a following.
Friday, November 12th, 2010
Inspissate

To thicken, especially by boiling, evaporation, or condensation; condense; To become viscous
This is from The Curse of Doone by Sidney Horler (1928). I am reading it on the bus and enjoying it immensely.
From the book:
Here was the imposing balustrade gallery, which, running around the top of the large hall, connected with the main staircase.

Even in daytime, so dark was the panelling and so ill-lit this particular part of the house that Cicely always hastened past it on her way downstairs. It had an atmosphere of inspissated gloom.

Every nerve strained, she listened. She had not been mistaken – it was a noise – a stealthy sound like a person walking cautiously.

The fear which had been dormant in her mind now assumed an actual shape; someone was either ascending or descending the broad staircase.

That someone must be after the secret!
Friday, November 12th, 2010

I published my anthology of computer stories on Amazon Kindle this morning. It is 173 pages long and there are 16 short stories. It was remarkably easy.

I formatted the stories using word and a 6×9 template that I downloaded from a website. I went to a free font site and got some snazzy science fiction fonts for the headings and the title.

It took me 4 days to re-read and edit all the stories and then format them in MS word.

I have Adobe Pro that can create PDF files, so I used that to create the PDF.

I then went to DTP.Amazon.com and filled out the forms and uploaded my book.

The book is under review, now.

I had an urge to sell it cheap – there is a 99¢ option, but, counter to what you may think, pricing a book high on Amazon does not hurt your sales, and may enhance them. I chose $8.97 because it is less than the max $9.99, and it sounds a little like the book is on sale.

I will put a link all over my pages when it through the review process.

I am working on Amazon's CreateSpace to have hard copies of the book, but I am stuck on the cover. I need an afternoon so I can put together my art ideas. Then, watch out, all of my friends will be getting my book for Christmas instead of a bottle of wine.

I am now starting to collect all of my weird tales in a word document to see if I have enough to do another anthology. Then I'll put all of my Space Opera together.
Thursday, November 11th, 2010

Currently there is a 25 minute wait, but you can press buttons to wiggle cat toys for kittens. The kittens, however seem bored by the whole idea.

It only works in IE and you have to load a plugin. In other browsers you can watch, though.