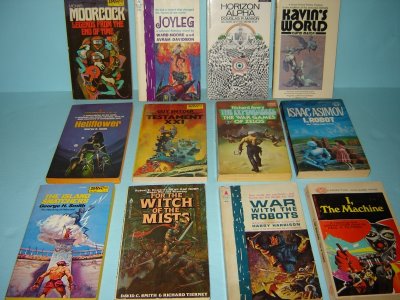 I bought 57 books on eBay – about 14 pounds. (picture is of a random sample) They arrived today. These are great books, most from the 1960s and 70s. Many are unknown or little known authors. I don't think that I've read about three quarters of them. This is going to last me until around Thanksgiving.
As I finish these, I'm going to put them up for sale. I am well on the way of writing a world class storefront system in PHP (no database required). My system is unique in that it is for small stores with a small inventory that don't want to have a complex database but still want a full featured system. I also want to to be easy enough to use that it will make selling one-of-a-kind items easy. I want to support only PayPal (and maybe Google Checkout) because I believe that accepting credit cards directly is too expensive for the average small store.
I was searching around for more books, and I found a web site that sells science fiction books by the pound (I am keeping its URL secret). An average paperback weighs about 4 ounces so that's 4 books to the pound (including packing material.) At $2 a pound, that's right in my price range. You can make an offer for less, so I will see it they go for $1 a pound for 50 pounds (200 books). The good news is that these are new books, and I probably have not read any of them. The bad news is that they include those ubiquitous D&D, TV show (trek, Dr. who, Buffy et al), Vampire, Zombie, and 6 part series books in the count and you don't get to choose.
You can expect many more badly written book reviews in the next few months.
---
3 Responses to "Buying Books by the Pound"