The thing that surprises most people when I talk about the future is the death of static media. I mean no more DVDs, no more CDs. I can remember when VHS beat out Betamax. I can remember when CDs made vinyl and tape obsolete almost overnight. I can remember when DVDs replaced VHS during one Christmas season. It is easy to predict that a new format will replace CDs and DVDs any minute now.
Apple iPods have made CDs obsolete already, but there are pirating concerns and copy protection issues that holding back the technology. I think that the record companies want to hold back the death of CDs for as long as possible. I think that they should give up.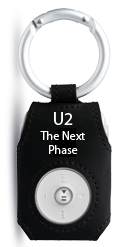 Here's what I think should replace the CD. I call it the Music Chip. The Music Chip will be a sealed system. You can't record on it. It can only play the songs that were burned into it when it was made. It will have a small rechargeable battery and a socket for earphones. It will contain 20 songs and will cost about $10 retail and about 30 cents to make. (The recording artist will get about 3 cents a song, as they do now with CDs.) An optional charger will cost about $20. It will come in a blister pack with a small booklet. It will only play audio. It will contain a digital version of the songs, but the digital source will be embedded in the chip and it will not be rippable. The only way to steal music will be to play the songs through the audio port into the microphone port of a PC. The quality will be about the same as the old 45 rpm singles that died 15 years ago. High quality versions of the songs will be available for download with DRM (digital rights management) copy protection.
Prediction: This year there were single song musical greeting cards available quite cheaply. You will see music chips available for all the latest hit recording artists at K-Mart for stocking stuffers next Fall.
DVDs are dead. The whole idea of selling hard copy movies for viewing in the house has been marginal. The studios make money on DVD sales, only if the DVD cost is well below the price of a theater ticket and comparable with the cost of a rental. I don't want to see most movies more than once. The movie rental industry knows this. HBO and Cinemax have been "renting" movies through cable for years. TV stations have been giving movies and TV shows away free for years because the advertising model works well for TV. The TV networks are finally wising up and realizing that advertising works just as well on the internet as it did in broadcast. The networks are posting their TV shows online and making as much money per viewer as they made on broadcast. The trend is that fewer people are watching TV and broadcast advertising revenues are falling.
Prediction: Before the end of the year, flash-in-the-pan movies will go directly from theatrical release to YouTube. The movies and TV shows on the internet will have imbedded advertising that will be added dynamically. The ads will be tailored to the viewer as well as the movie content. The technology will alter the streaming video and overlay advertising, directly on the video over uncluttered portions of the picture, so that no amount of editing by hackers can remove it. Movies and TV shows will be available on the TV using appliances like the Apple IVideo box for free. The content will contain commercials. It will seem like ordinary TV, but the delivery process will be different. It seems obvious that the Cable Companies will want to do this, but providing free TV is not something that the cable companies can possibly understand, and they will find themselves trying to make a small profit off of being cheap internet service providers.
Other predictions.
Satellite radio will go live on the internet and give up the satellites. I think the only people that listen to satellite radio are the people that get the free introduction subscription and the renewal rate is very low. The iPhone can get the internet most anywhere for less than $100 per month. I suspect that most people will be able to stream the internet radio to their car speakers through the iPhone. There will have to be some cool software written with huge buffers to account for the natural low signal patches, but the software should be knocking around by next Christmas.
The first truly interactive TV shows will appear nearly 60 years after Ray Bradbury described them in Fahrenheit 451. If you will remember in Bradbury's novel, the TV sets were large flat screens that covered an entire wall (or two) and the shows had a character that was left out for the viewer to play. The software has to be smart enough to detect the interaction, but forgiving enough to compensate for a viewer who flubs his lines or runs out to the bathroom for a few minutes. These would be more than computer games and more like long running soap operas where you can interact with the characters. Computer games will go large scale with WII type interfaces and multi-person shooters will figure a way to shoot back, perhaps even with deadly results (I can only hope).
Remote presence devices will appear. Think of a Roomba crossed with a Mars Rover only with a face. Internet devices with a screen, camera, speaker and microphone will appear. Consider these scenarios. I want to visit Machu Pichu, but I can't afford it. I rent a mobile device that I can control with my mouse from the privacy of my own home and have the device "walk" around the ruins. I can take pictures. I can explore anywhere I want. I can talk to the other tourists at the site without ever leaving my desk. Suppose I want to go to Las Vegas. I can rent a little wandering robot at a casino. It has an arm that can put quarters in the slots. It has a pocket where I can put the winnings and have them shipped back to me. Suppose I want to go shopping in Paris. My little robot can go from shop to shop and I can talk to the shop owners or haggle with the vendors on the Left Bank. If I were a travel destination, I would be looking to buy several of these right now. If I were planning a wedding, I would rent a dozen of these for relatives that live too far away to travel to the reception. If I were bed ridden, I would buy one of these and ship it all over the world, wherever there is an available wi-fi or fast wireless internet connection. I could go anywhere in the world without leaving my wheelchair. Strangely enough, I can't find anyone selling these. I'll have to build one in the cellar.