Archive for June, 2006
Friday, June 30th, 2006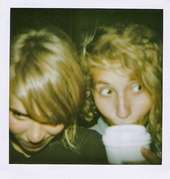 My Cousin's teenage girl is producing some fairly decent music that she posted on MySpace. The last time I saw Becca she was a cute little child, not much more than a baby. Now she is a teenager in San Diego with a MySpace page containing some simply done but impressive songs. She and a friend call themselves the Czech Bunnies after their Czech heritage. (My family is polyethnic – what I call a Heinz – 57 varieties).
Their musical style is outside of my experience, but I'm sure it's well placed in her own subculture. It is original and interesting and I was able to listen to it despite it being miles away from my personal tastes.
The girls have small, but accurate voices that hit the beat and the notes. They have arranged the songs, which I assume are original, and they play many of the instruments. I am guessing that some of it is sequenced with a keyboard. What surprises me is that the songs are casually done, just for fun, but show a degree of sophistication that I can respect.
When you think of garage bands, you think of badly played metal guitar and not sweet voices singing songs with silly subjects. Teenage interests are mercurial, but if they decide to continue with music, I think that they will be gigging at the local bars before they know it.
Larry and I will have to exert our bad influence the next time we see her. Before you know it, we'll have her belting out "Wang-Dang-Doodle" or "Meet Me With Your Black Drawers On" with a slide guitar and blues harp in the background. With our guidance, she will eventually discover that Blues is the true religion.
Becca, try googling "Memphis Minnie". You will never be the same!
Thursday, June 29th, 2006

From David Drake: Jim Baen passed away peacefully and with dignity at 5 pm yesterday, June 28, 2006.

JIM BAEN
October 22, 1943 – June 28, 2006
Tuesday, June 27th, 2006

LOWERING ONE'S SELF BEFORE FATE


THE OPIUM OF THE PEOPLE


MARIONETTES ON THE MOON
I thought that J could use some links into his site to try and boost his google page rank.
Monday, June 26th, 2006

Outpost is selling a seagate 400gb hard drive for $110. This is 27.5 cents per gig and makes a 40 gig drive worth $11. Average users won't fill a 40 gig drive in their PC's lifetime – that's tens of thousands of mp3 files. I do some video editting and I have yet to fill a 60 gig drive on my laptop. (I have to clean it up from time to time, though).

I expect to be able to pick up a few 40 gig drives for under $20 soon and use my $14 usb adapter for offline storage.

Disk drive capacity has gone crazy. I remember when a 5 meg drive on my brand new XT was a huge amount of storage. When I dropped a file on it, I could almost hear the echo of all that empty space. That drive cost me $800 in 1984. That was $160,000 per gig! I was only making $18K per year then so it was a big investment.

In 1986, my friend Charlie Innusa ran PC-Rockland. He had twenty 40 meg disk drives daisy chained on a 3Com network. It cost him tens of thousands of dollars. I think that he had about 600 megs of storage – that's less than what you can put in ten cent CD, now.
Monday, June 26th, 2006

Working for the county, everything is political. Luckily, this stuff happens way above me and I get to work quietly in a dark cubicle in the corner. Friday, they installed the blocking software to prevent non-county email access and all non-business sites. I couldn't blog and I couldn't read my mail.

I came in this morning and the blocking was turned off. The entire internet is my oyster again. I don't know how long this will last.

I guess that the commisioners or some higher ranked politicos complained about their access to eBay being cut off.

Last night, I lost the connection to my favorite wifi hotspot at home. It was beginning to look like a conspiracy. There may come a time when I have to pay for bandwidth. I am not going back to dial-up!!!!!

I have this license frame holder on my truck.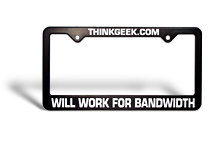 By the way, you can see the pictures of the Brown's Blues benefit at JT30.com
Friday, June 23rd, 2006

I host my blogs on my own websites, but I use Blogger.com to manage the posts. Blogger is simplistic, but it works. I would like all the features of WordPress, et al, but blogger is simple and painless.

I work for the County Government (I won't say which). They just put in blocking software that keeps me out of all of my email accounts and sites such as Amazon and eBay. They blocked blogger.com. I do most of my blogging at night, but this blog often has stuff that I think of during the day and post when I get a free moment.

I think my internet output will be severely diminished now that my internet input has been blocked for most everything.

At IBM the attitude was that everything that you did on the internet added to your knowledge base and thereby added to the company. They encouraged surfing.
Thursday, June 22nd, 2006

Kind of neat idea. My mind doesn't work like this, but I wish that I had thought of it. It's kind of a random graffiti board. I hope that the spammers keep away from it. Can you guess which are mine?

What's Your Outburst?

The .com domain name is not registered yet. This is at a free host so be prepared for some pop-up ads.
I found it while random blogging at: http://blueguardian.blogspot.com/
Wednesday, June 21st, 2006

My old friend Chris Brown is organizing a Blues concert this Sunday. Chris wrote me:

On Sunday, June 25th, from 1pm-7pm, There is a blue's benefit brunch at the Savory Grill on rte. 32 in Highland Mills NY (get directions). It is 4.2 miles north of the Woodbury Commons Outlet Center.

All proceeds go to St. Luke's/Cornwall Hospital cancer ward and are earmarked towards the purchase of a new mammogram machine.

There will be 5 blues bands in a lawn concert. Picnic blankets, or beach chairs are recommended. Ticket donations are suggested at $25, and this includes abuffet put out by Tom Leishman, owner of the "savory grill".

The bands are as follows:

The Pat "lover-boy" Blues Band
Chip Larison and the Catfight Blues Band
Carlos Colina and the Straight Up Blues Band
Main Squeeze
Gary Swartz and Gil Cruz and the All Star Blues Band

There will also be special guests whose lawyers prevent me from announcing as well as several great raffles. It is family friendly and biker friendly.

Kids are free. For ticket info call Chris Brown at 845-928-9001. Leave a message.
If you live in South NY, North Jersey, West CT, or East PA, you can't miss this.
Tuesday, June 20th, 2006

I have a website HarpLinks.com that is a neat php application. I wrote it myself and loaded it with about 3000 harmonica related links.

It has a Add-a-new-link function. I am getting 20 or more spam links a day. The interesting thing is that they look like they are genrerated from different IP addresses. There is a trojan out there that does nothing but post links.

My spam sensing code has has only let one piece of spam through in months. That was written in Italian, and now I look for italian spellings of drugs. Is there any money to be made in spamming about overseas drugstores?

My task for today is to change the URL of the addlink program to avoid this trojan for a while. I will make it a parameter driven item so that I will not have to change the code again.
Tuesday, June 20th, 2006

I read Rudy's Blog regularly. His Software and Wetware are two of my favorite cyberpunk books. Rudy was a Math Professor and now is a full time writer. I've never heard of Yage, although I must have read about it in Naked Lunch. I'll have to find some for the Poker Boys.

I think it is very cool that Rudy went to City Lights bookstore and talked to Lawrence Ferlinghetti, himself. It's nice to know that he's still kicking. When I went there 15 years ago, I didn't see him.

The Burroughs book Junkie came out as an Ace Double. I collect SF Ace Doubles. They are usually short novels that were never reprinted. For many of them, you can't find them anywhere, except in the original magazine edition and the Ace Double. They are great. One day I'll have to scan a couple of dozen covers.

As a fan of Beat literature, I am awed by Rudy's line:

I've always thought of science fiction as an extension of Beat literature.
Friday, June 16th, 2006

I just read that Jim Baen is seriously ill. I have always had the highest regard for Baen as a publishing firm, and of the man, although I have never met him. Baen's has had a reputation of dealing fairly with authors in a field that makes its profits by nickel and diming the writers whose works they sell. I've heard many personal stories where contracts have been re-written and fee royalty schedules altered in favor of the author to correct inequities. This is something that is not heard of anywhere else in publishing.

I am working on a first draft of an action SF novel that I thought I might submit to Baen some day. I don't like the prospects of a publishing industry without a Jim Baen.

Strokes can be devastating. Some people can recover, but some never come back completely. I hope Jim makes it through this.

There's a thread at: Making Light: Jim Baen
Thursday, June 15th, 2006

It turns out that the random number emails are from a trojan on another machine. The trojan is called W32.Beagle.FC. These infected machines download a file from a host machine that contains email addresses and then tries to send email in order to confirm that the email address is live.

Basically the spammer made a trojan file that it is using to validate email addresses. If you received the email then the spammer knows your address and that it is a live mailbox. You are probably not infected.

The subject is always one of 455, 557, 56757 or 586876
The body is always 5556 or 969

Read more at:
Symantec Virus Information

Thanks, lxnx, for this info.
Monday, June 12th, 2006

100 38 Things that you shouldn't put in your blog.

I use Blogger.com's random blog feature. I have found some great stuff, but I am beginning to detect patterns.

Some stuff is quite common and very uninteresting. Some stuff is repeated over and over again. Some stuff just wastes my time.

This is a growing list of things that you should NOT put in your Blog.

1) You are bored.
2) You haven't blogged in a while because you can't think of anything to say.
3) No one understands you in this two bit town.
4) Amy and Jessica are so un-cool and Tiffany is a slut (unless you have pictures).
5) You will tell only the truth here.
6) You went off your diet – again.
7) You just love the new single by (put favorite pop idol here).
8) You got so drunk last night (unless you have pictures).
9) It rained (or didn't rain) today.
10) George Bush sucks or George Bush is wonderful.
11) You skipped classes today because you are so sick, or depressed, or bored.
12) You don't feel like doing your homework assignment.
13) Jesus loves you.
14) Football scores or Futebol scores or Soccer scores.
15) You and your boyfriend are so much in love that you can't believe it.
16) Anything at all about Indian Cricket.
17) A long poem (or any poem).
18) The conversation that you had with God.
19) You are so depressed today.
20) Everything went wrong today.
21) Your cancer is still in remission.
22) The latest video game that you played.
23) That you are a blue guy in a red state or a red guy in a blue state.
24) Your cruise pictures.
25) Your favorite blond joke.
26) This blog is waste of time because you know that nobody will understand what you are really trying to say.
27) This is your first blog entry.
28) Doctor Destruction is not your real name.
29) Anything that you think might look better with aligned=center.
30) Any post that uses more than 2 font sizes or colors.
31) JavaScript alert messages.
32) You've found the perfect man – again.
33) Video game screen shots.
34) Private messages to the only person who reads your blog.
35) "This time it will be different", in regards to weight loss, love life, or quitting smoking.
36) Random pictures of things in your yard.
37) Another picture of your damn cat.
38) A YouTube.com link to a skateboarder breaking his arm.

Please add any more that you can come up with. I want to get this list up to 100.