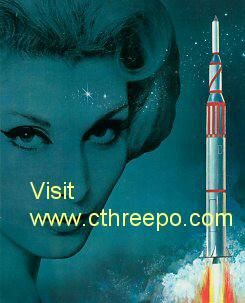 I often use images from other websites here. I usually take the image, resize it, and then host it myself. If I am linking to a website, though, I will sometimes use a reference to their image. It is bad form to use an image hosted somewhere else and then not give the website the traffic in return.
Somebody has stolen to my Space Age Pop blog entry, including the image at left. They stole the whole entry and the link to the image on cthreepo.com. It costs me bandwidth and I get nothing in return.
I got back at them by plastering my URL on the image.
The guy who did this is now giving me free advertising.
I'm still not happy about the plagiarism of my blog entry.
---
3 Responses to "Image Scarfing"