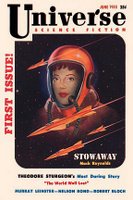 They announced the new title to Baen's ezine:
Jim Baen's
UNIVERSE
A Three-Ring Circus of Science Fiction, Fantasy and Fact.
This is too reminiscent of Orson Scott Card's Intergalactic Medicine Show. The "Three-Ring Circus" has got to go. Just say: Science Fiction, Fantasy and Fact and that should give the proper John W. Campbell, Jr. flavor to the thing.
BaensUniverse.com and BaensUniverseMagazine.com are registered but no web site yet.
There was a Universe Science Fiction Magazine back in the 1950s. I wonder what suits will crawl out of their cubicles for this?
By the way, the first issue of 1953 Universe Magazine was really great. It featured Mack Reynolds, Ted Sturgeon, Robert Bloch, and my hero: Murray Leinster.
---