Archive for November, 2005
Wednesday, November 30th, 2005

Another issue. The journey this time was a little rocky, but it's early again. Have fun.

Monday, November 28th, 2005
Thursday, November 24th, 2005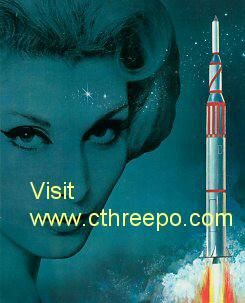 I listen to Blues – period. Well, once in a while I find something else cool enough to tell my friends. I found this on a French blog while random blogging. I thought the music was different enough as well as cool enough to post it here.
Tuesday, November 22nd, 2005

It is somehow appropriate that this week I will be recording my experiences with some of the worst science fiction that I've come across in a long time. I bought most of these at a flea market a couple of weeks ago and I've spent the time since cursing at the cassette player.

1) Conquerors' Heritage by Timothy Zahn, Bookcassette; Multitrack edition (September 1, 1995). This is an awful, awful book. It reads like it was is written for a 9 year old by a 12 year old. I listened to the whole thing because I was midly interested in how the hero escaped from the Conquerors, but when it happened, it was an impossibly sophomoric solution. The book just stopped at the end of the last tape and I realized that the slow pacing and boring filler material was only there to stretch this out to a trilogy, and I was listening to book 1.
I will never buy a book by Timothy Zahn again.

2) Death Dream by Ben Bova. Nova Audio Books; Abridged edition (September 1, 1994). This book is hopeless outdated and has a retarded sense of VR and human-machine interface technology. On top of everything, the abridged edition is hard to follow. I only listened to the first tape before giving it to Erica to recycle on eBay. I am a fan of Ben Bova's. I liked some of the Peacekeeper books and I'd like to listen to the Grand Tour series. Death Dream, however, should be avoided.

3) STAR TREK FEDERATION (Audio Cassette) by Judith Reeves-Stevens. I should have known better. I have liked only one Trek cassette, ever. I have only enjoyed one Trek book. I keep trying, knowing in advance that I will be disappointed. I listened to the first 10 minutes and rewound this one.

In my own defense, I bought these at a dollar per book. I thought it was a good deal at the time. Erica has all of these on eBay by now. I hope I get my $3 back.

On the print book front, Arthur Sanchez loaned me Dan Brown's book, Digital Fortress, in paperback. It is another computer based book that is outdated and shows a deep misunderstanding of how computers work. Some of it, like massively parallel computer systems, is appropriate to the plot and Brown got some good information about NSA and this type of computer. The McGuffin, however, is a well used chestnut about an unbreakable cipher. There is a disconnect between the art of code busting and the technology of cryptology that just doesn't work.

Dan Brown, on the other hand, is a master of plot pacing and the subtitle Thriller is an adequate description. If you forget all that you know about computers, at least all that you have learned in the last 15 years, the story will be interesting.
Monday, November 21st, 2005

I got my form reject on "The Lucky Strike". After the rewrite request, I was hoping for more feedback. I got the exact same wording on another Baen submission, as have half the RMers at speculations.com. Paula has been busy.
This officially ends the Baen melodrama.
Four rejects today. I am officially entering a black funk – as Archie Bunker once said: The Holiday Season has us by the throats again.
On a positive note, I wrote the hard chapter for Fumets today. I might be able to get it up on the site soon. There are another couple of short chapters to write first.
Thursday, November 17th, 2005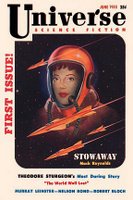 They announced the new title to Baen's ezine:
Jim Baen's
UNIVERSE
A Three-Ring Circus of Science Fiction, Fantasy and Fact.
This is too reminiscent of Orson Scott Card's Intergalactic Medicine Show. The "Three-Ring Circus" has got to go. Just say: Science Fiction, Fantasy and Fact and that should give the proper John W. Campbell, Jr. flavor to the thing.
BaensUniverse.com and BaensUniverseMagazine.com are registered but no web site yet.
There was a Universe Science Fiction Magazine back in the 1950s. I wonder what suits will crawl out of their cubicles for this?
By the way, the first issue of 1953 Universe Magazine was really great. It featured Mack Reynolds, Ted Sturgeon, Robert Bloch, and my hero: Murray Leinster.
Wednesday, November 16th, 2005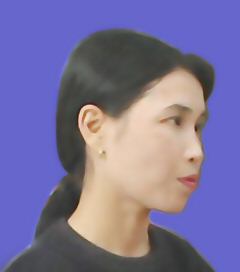 I enjoy looking at random blogs when the evening TV shows are bad. I came across this blog and I am impressed with this woman's courage and vision. She seems to be a truly heroic person who fights successfully against a corrupt system. She was recently convicted and sentenced to 18 months in prison.
I don't much about the details, but what I have read is amazing. Please tell you everyone you know about this. Let me know if I am wrong about this. The politics in a small village on the other side of the world is beyond my comprehension.
She is a non-violent Buddist, but she seems to be true freedom fighter.
Here is anothother Su Su Nway link.
Tuesday, November 15th, 2005
Up until about 1997 I used to go to DC regularly for work. At night I would bring my harps (harmonicas) to the New Vegas Lounge and my boss would borrow a guitar and we'd jam until 3 in the morning. It was run by a cool guy called Dr. Blues who could only sing one verse of one song (Rock Me Baby) but he could sing it all night long. It was a dive, but great fun. There was no regular band, but musicians would wander in all night and play for a while and then leave.
I thought about the old place recently, and when I checked, they have a website. They cleaned up the place – no fat hookers in the back. They classed up the menu and I think they may have hired a waitress. I understand there is a hefty cover charge now and the service sucks even worse, but the music is good.
I miss the New Vegas Lounge.
Tuesday, November 15th, 2005

I wrote chapter 7 today of Fumets. I had written chapter 6 last Friday and I posted it this morning. I have written about 10,000 words and solved a problem that I was having about sequential chapters separated by time being too similar. I have an easy chapter to write tomorrow and then the next showstopper. I need to get back to Gerardo and reestablish him as a major character. The book's central chracter is Bliss, but I need to get Annie and Gerarde back in the center of things.
Saturday, November 12th, 2005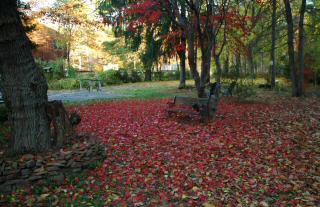 I came home today and the ground in the side yard was aflame with fallen Japanese Maple leaves. I thought that'd I'd take a picture or two. The second picture is going to be my desktop graphic at work.
I don't rake leaves or pay illegal immigrants to do it, the way most of neighbors do. I feel that the guy who made the mess should clean it up. By Spring these leaves will be gone.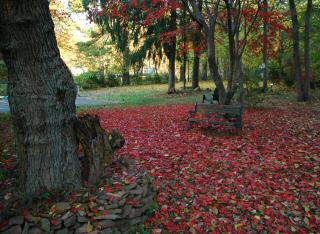 The last leaf still clinging to the baby dogwood tree invited me to take a picture of it.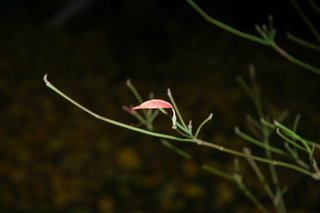 Poor Max came out to visit while I was taking pictures. This cat came to our house starving one winter. He was feral and wouldn't let us touch him. Now he curls up against me at night and purrs when I rub his belly. He's sick and won't eat. I've been trying to force feed him.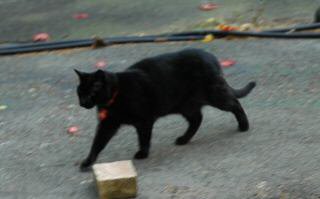 Friday, November 11th, 2005

I just read this at Baen's Bar:


After some back and forth between us and the people who claim to own the trademark for the name "Astounding," we've decided it isn't worth the hassle of squabbling with them about it.
They have been visited, I take it, by the same suits who came to talk with me.
This is disappointing. I was rooting for Baen on this one. The name Astounding is not a strong trademark, and it hasn't been used in 40 years. I don't know how the suits manage to defend it.
Baen is having a contest to name the new zine. How about Baen's Science Fiction Magazine? This is what it should have been from the beginning, anyway. I guess they wanted that pulp SF feel in their title. Well, so did I, but I got to Astounding Tales first. Arthur and I are thinking that the March issue of Astounding Tales will be our last – two years is a good run. They can have the name cheap in June, along with 1000 hits a day traffic, which is a good start for a web page.
Thursday, November 10th, 2005

My story, The Lucky Strike, submitted two weeks ago to Baen's Astounding Stories spawned the following response from Paula Goodlett, their Slush Reader.

I'd read this before I left and like it quite a bit. As well, Rick Boatright pointed it out to me and he likes it quite well. We both think it's a lot of fun.

We do, though, think it would benefit from a bit of tightening up. Would you take a run through it, looking for excessive words and see what you can do? There's some repetition you could do away with. I'm probably sensitive to it, since Eric just got through making me jump through hoops on a rewrite for the same thing. :-)
This is an interesting development. It feels like some kind of strange illicit relationship is developing. I may spend the weekend rewriting the story. Please stand by…
About Lucky Strike:
I wrote this in late 2001 at IBM. I was during the final days of my employment there when there was very little to do. I did not write it for publication, but just rambled on until I got to a stopping point. When the submission bug hit me back in the beginning of 2004, I found it on a backup CD, gave it a polish and a new ending, and I shipped it off to Jonah Listner who put it on his short lived website. When Jonah disappeared, I thought that the story was dead forever, after all it's nearly 7,000 words of rambling adventure, and there are no ezines that want such a thing. I put it up at KeithGraham.com with my other stories that are out of print. It was then nominated in the 2004 Editors and Predators Poll for best story and wound up in the top 10. All of the stories that scored higher were romance fiction.
Wednesday, November 9th, 2005

I officially haved a working furnace. I did the gas piping myself yesterday. I started up the furnace and I found a couple of drips in the hot water pipes, but nothing major. I'll fix that when I get a warm day. I am not happy with the thermostat and zone hookup. I am not sure that I got it right. I'm going to rewire it again this weekend.
I have Friday off for veterans day, so I'll be working in the cellar all afternoon.
To recap, last March my furnace burned up when the zone valves failed. The pressure control valve failed to fill up the furnace when the water boiled away and the house almost burned down. All the pipes near the furnace had the solder melted out of them and the electrical all burned.
I procrastinated all summer, but I bought a furnace in September. I spent October weekends redoing the hot water circulation copper and putting in a new radiator in the kitchen. I had trouble with the radiator and eventually had to buy another one and that one went in without a problem.
I wanted to have a plumber do the gas, but I couldn't get anyone to come to the house. I did the gas myself and tested it for leaks. It all looks good.
This morning, I came downstairs and it was 72 degrees in the living room. So far so good.
Wednesday, November 9th, 2005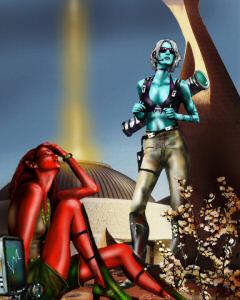 I sold my YA adventure tale Quantum Genie to SamsDotPublishing and it will appear in The Fifth Di… in the December issue.
I had previous written this as a story about two old fart anthroplogists returning from a dig, but it made far more sense as two kids and a strange artifact. The kids interact in a much more interesting way and the action seems more reasonable.
I sent the original, God in a Bottle about an old professor who finds an artifact that can destroy the ship, but then rescues it, to Orson Scott Cards new ezine. I don't expect it to be published, but I did want to see how their slush works. It would be a hoot if they took it, because the Fifth Di… version is, by far, the better treatment.
It feels nice to get a story in at SamsDot – like coming home.