Archive for April, 2005
Saturday, April 30th, 2005
Swans Necking
Originally uploaded by keithgraham.
I am blogging from www.flickr.com. My flickr page is:
http://www.flickr.com/kpgraham
This is very cool.

Friday, April 29th, 2005

I created a microphone with a tone control in addition to a volume control. The eBay bidding is getting crazy.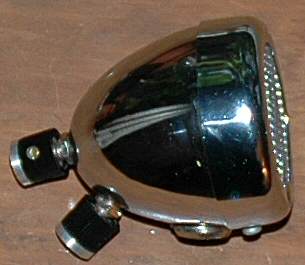 Check the auction on ebay
—
Friday, April 29th, 2005

My friends, Koch and Aji, sent me some pictures of elephants at a festival near their homes in India.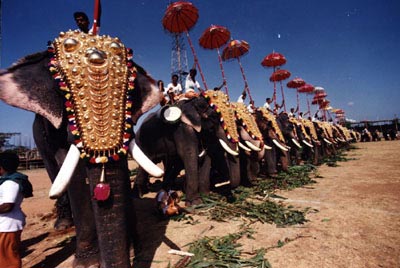 —
Wednesday, April 27th, 2005

I have worked in dingy offices in cubicles formed by shabby partitions for most of my life. I had my camera in my pocket when I went to work, so here are some pics.

I work in a large older building in the heart of White Plains. It was built in 1930, and is mostly designed in a Deco style, but it is built from parts from a catalog. The design elements seem to clash and have no theme or unity. The architects just picked whatever seemed to fit. The outside is Deco with Classic Revival elements and a few Victorian designs. The inside is all polished terrazzo and Deco light fixtures.
An interesting bit of synchronicity is that I took my West Point qualifying test in this building. I did well enough on the test to get a recommendation to the academy, but my glasses kept me from passing the physical.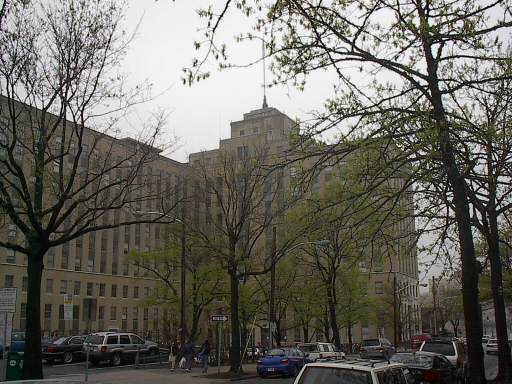 My cubicle: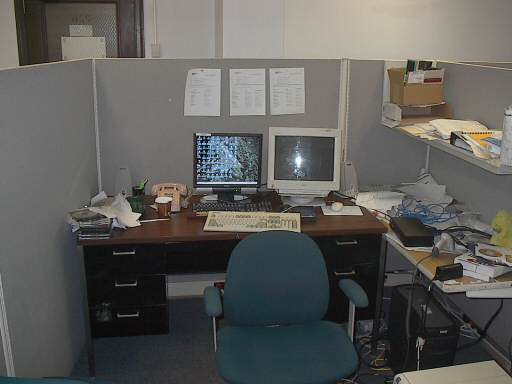 Fellow Programmer Aji: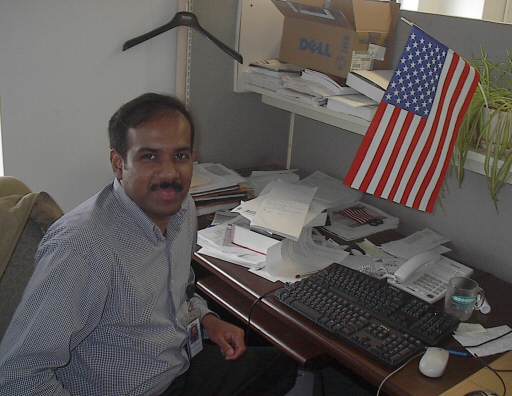 Fellow programmer Koch: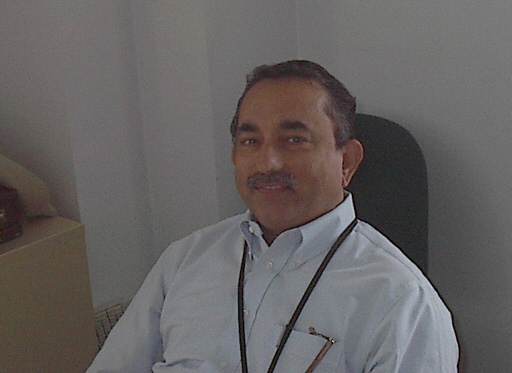 Mysterious office worker in cubicle behind mine: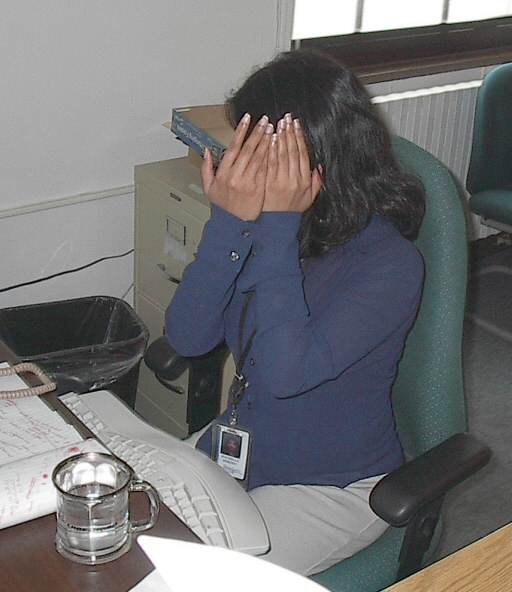 —
Tuesday, April 26th, 2005

The flea markets are all open. I was at the first Stormville Airport flea market Sunday. I did not buy anything, although I saw an Astatic D-104 harmonica for $30.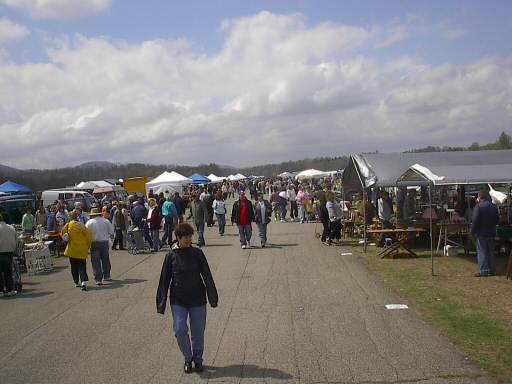 I walked around Rockland and I happened to have my camera in my pocket. I met James White. James was playing drums the first time that I played harp with a band.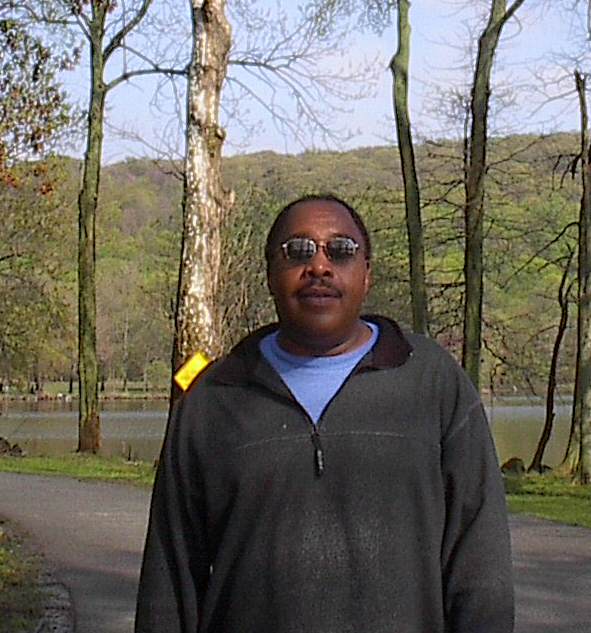 The swans have built a nest and are sitting on the eggs. It's hard to see with the cheapo HP camera, but there is a trace of white on the right of the brook. Her mate is patrolling the waters.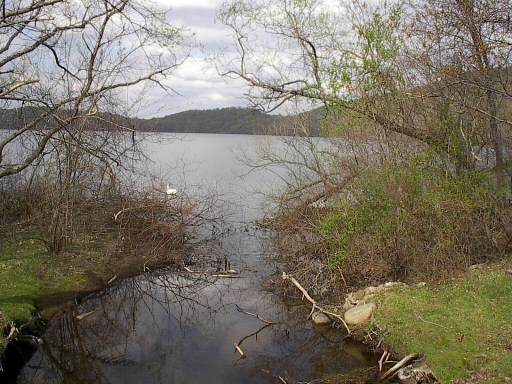 Friday, April 22nd, 2005

There's a site that lets you create your own South Park Character. I have only watched a few South Park episodes. I can't really take it in large doses.

http://www.planearium2.de/flash/sp-studio-e.html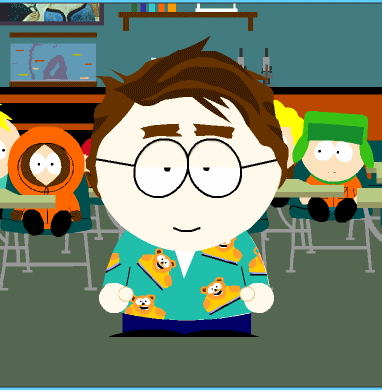 South Park Keith
–
Thursday, April 21st, 2005

I spent an hour today producing sort-of-art by running images through the Paint Shop Pro filters. The link goes to some hefty images, some over a meg, so don't bother or be real patient if you have a dial up.

http://www.astoundingtales.com/bestof

Arthur might use one for the cover. I am also going to ask the artist who did the cover of Issue 4 if I can use one of his images, but I wanted Arthur to check these first.

–
Thursday, April 21st, 2005

When there was the unpleasantness with AstondingStories.com, I registered StrangeTales.net along with AstoundingTales.com as alternatives. We went with AstoundingTales.com and I've been using strangetales as a place to put some odd pieces of thought and code.

When I started redoing the AudioCD.com interface (previous post), I decided to redo the StrangeTales.net interface and use it to feature a few programming projects. I made a new piece of pseudo-art for the background and added a links. I am quite proud of it.
Thursday, April 21st, 2005

I have a very pretty home page template for the new AudioCD.com. This is just a home page for the time being. It works on FireFox and IE6, but I don't know about primitive browsers. If you have an old browser (IE5, Netscape, or older AOL) please let me know how it works.

http://www.strangetales.net/acd/index.html

The background should stretch if you resize the screen and the test messages should appear and then fade away and a new message appear.

Note that none of the links work. I am testing the template, not the code.
Tuesday, April 19th, 2005

This is a story idea.

I just read where Robert Burton, an English philosopher and Novelist during the early 1600s, committed suicide for the silly reason that his astrological charts indicated that he would die on a certain day. He wanted the charts to be correct and could not suffer the humiliation of having made an erroneous prediction.

This could be incorporated into a story in several ways. You could predict someone's death and the person would comply for any number of reasons. You could predict that someone who hates astrology will live a long life and he commits suicide to prove the astrologer wrong. You can come up with variations of murder by prediction such as provide an astrologer with doctored ephemeris (tables of star positions).

It would not have to be astrology. Suppose a programmer had a program that was uncanny at predicting certain kinds of events – elections or oil prices, etc. What if the programmer began to alter the output of the program to manipulate the reaction to the predictions – kind of an information theory Heisenberg principle.
Monday, April 18th, 2005

Erica is kicking around the idea of making some money off of her fancy camera by doing some real estate shots, especially panoramas. We've been looking into it and it seems like something that we can do, leveraged by my own techno-dweeb background.

I created a little javascript program to display panoramas. This code is simple – about twenty lines of code – and works better than the stuff that you pay for. It will work on most browsers that support cascading style sheets, which is about 99%.

I went into the back yard and took 10 overlapping pictures. I then loaded them into a progam called iVista Panorama. It took about 15 minutes, but the progam did a nice job. I resized the image (it is still about 400k) and put it in a web page. You can see the watermark running along the center of the image left by the free version of the software.

You can see it at my www.paperthetown.com domain. It still has a loading problem and sometimes you have to press refresh to see the who image. I have to fix that.
Sunday, April 17th, 2005

I had a busy, if uninteresting weekend, and I have the pics to prove it.

Friday night I finally had a good poker game. I won $6, which is a big night. Here's a picture of Jim, and then later, Jim and Bob.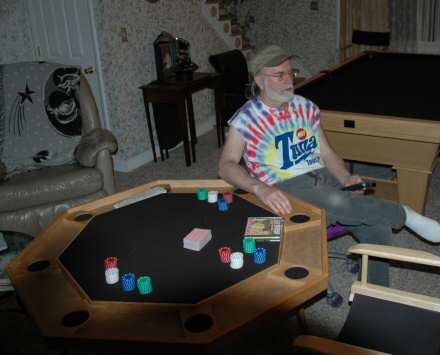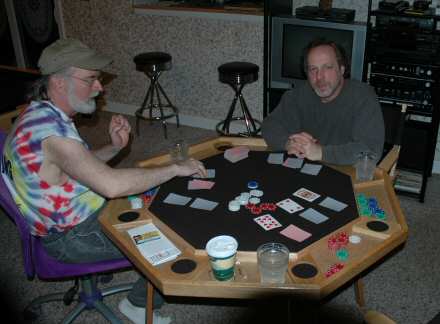 On Saturday, I went town to the Trenton State Computer Festival. This is the oldest computer fair and flea market in the world. I first started going to these around 1981. This one was not so interesting, but I did manage to buy a 16 meg compact flash card for a buck and some phono plugs. Here is an idea what it was like.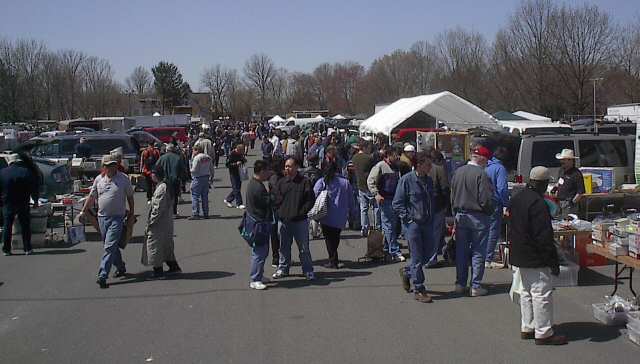 Sunday, I went up to the Reinbeck Flea Market, about 75 miles north of here. I didn't buy anything interesting except some quilt patterns for Erica. But the good news is that the Historic Diner in Red Hook has reopened after it had a fire this winter. The old diner is very cool and for about $10 you can get a good home cooked lunch for two.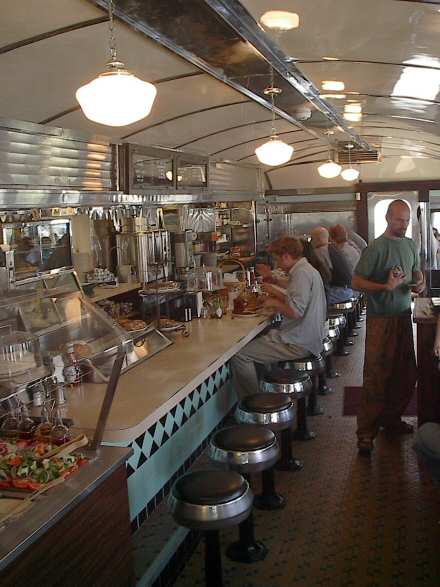 I brought Erica's new fancy camera over to my Mother's house. My Brothers Ward and Larry are going to Amsterdam tomorrow and I wanted to talk to them before they left. Here they are: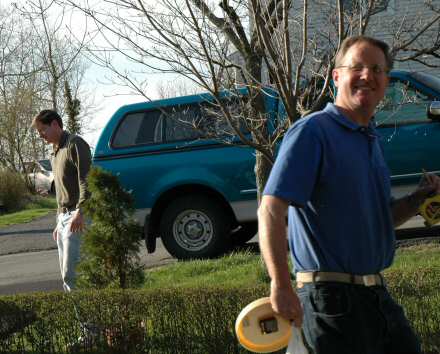 They wouldn't hold still for a picture. They were out junking because it is cleanup week and were unloading their cache of gold and treasure form the car.
Here are some pictures of my Mom and the house.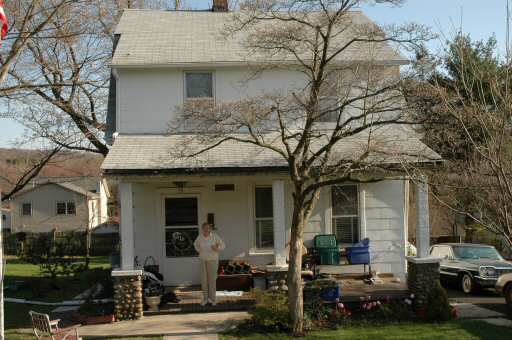 I grew up here at 21 Vine Street, Central Nyack, NY. (They renumbered it to 19 a few years ago.)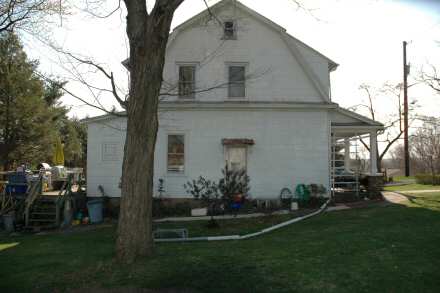 That's my old room – the left window on the second floor.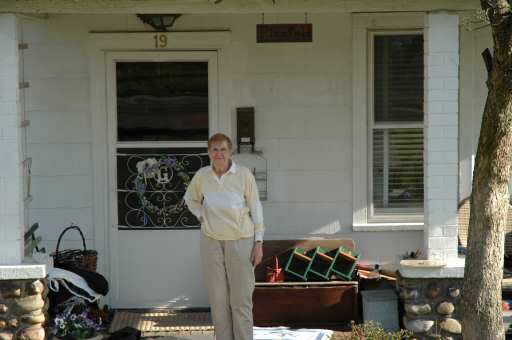 Mom made me take another picture of her in front of the flowers because the porch was covered with treasure from junking.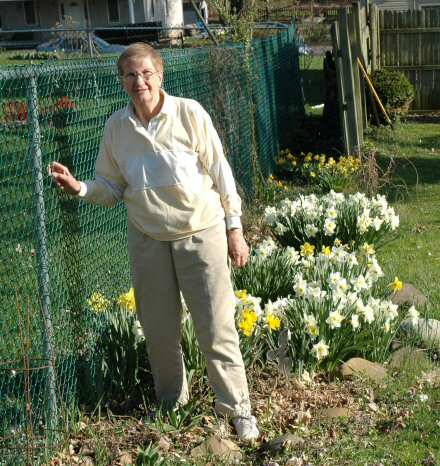 This is a picture of Zack, Mom and Larry's cat. Zack is the world's nicest cat. He loves to sit on your lap and just loves attention. Zack has cancer, but he's on chemo and is doing very well.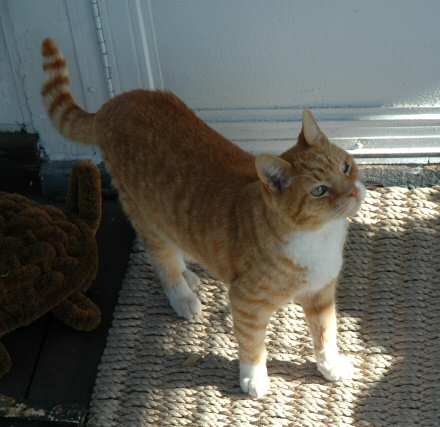 It was just a boring weekend. I put about 300 miles on the car and have very little to show for it, but at least I filled up the time. Erica and I finally finished Night over Water by Ken Follet, the book on tape we've been listening to.
I just got back from doing some junking myself and I got a Paul Butterfield LP, a BBQ Bob and the Spare Ribs tape, and Angela's Ashes and Hiroshima books on tape.
Friday, April 15th, 2005

Space.com had a nice article about Cat Nights and feline constellations. Their lead off paragraph, however is a great idea for a short story.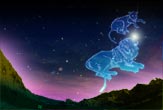 Not too many people are aware of the term "Cat Nights," which goes back to the days when people believed in witches. Old Irish legends have it that a witch could turn herself into a black cat eight times, but on the ninth time she couldn't change back. Supposedly, this is where we get the saying, "A cat has nine lives."