The chicks arrived. It took about 23 hours to get here from Cleveland.
)
---
Konstantine Paradias produced an audio version of my story.
He did a good job.
---
If you are interested in day old chicks, our order arrives Monday or Tuesday. We had to order 15 which is the minimum, but we only need 5 or 6.
If you are interested in a few chicks and know how to keep them warm and feed and water them, then we are selling the extras.
Barred Rock, Buff Orpingtons, Easter Eggers, Buff Stars and Australorps. Mix and match.
---
So far around 10 inches. I went out and shoveled a little at 6 inches and took some pics. I just shoveled the walk again. The plows have not been through in hours. This will keep up until dark so I expect another 4 or 5 inches.
---
I replaced the keyboard an touch pad on my Dell Inspiron. It failed a few weeks ago. The touch pad would not move the mouse pointer anymore and the mouse button would click randomly.
I recently changed the power brick, and then this happened so I invested the $19.95 in a new front panel for the PC. I had to take out 1,000 screws, but I got it working again, with only a few screws left over.
Here's a closeup of the old touch pad. I wore  a hole in it, and the finish is gone from the buttons. I use this thing to death.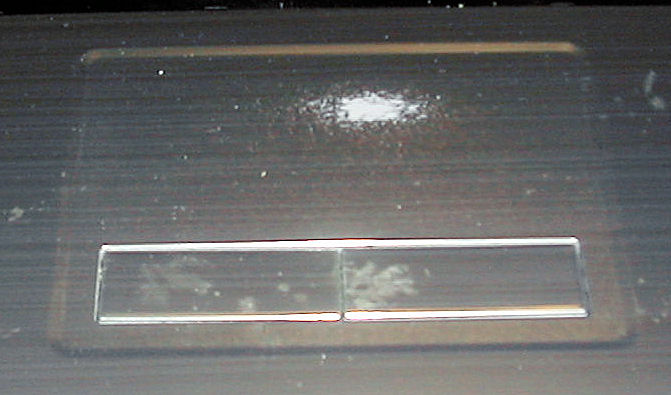 ---
I am sorry that that there have been so few blog posts lately.
1) I have been working at a new job. My monitor is exposed and people walk behind me all the time. I can't goof off (as much) on this job as I have been accustomed to.
2) I have had some health issues that have preoccupied me. I am back to 100% now, but still I have lost some motivation to self-actualize. Some things seem trivial compared to a fight for your life.
3) I have not really had too much to say.
To catch up, here is some news.
My old friend from Central Nyack Noel Fenton died. Noel lived around the corner from me. We grew up together and played lots of basketball and other games. After high school Noel got married and divorced and lived in Suffern, about 10 miles away and I rarely saw him. I am saddened that I will never see him again and that I had not spoken with him in so long.
Another old friend Jeff Williams had a heart transplant. Jeff lived around another corner in Central Nyack and is a year or two younger than I am. I've known Jeff since he was a little kid. I have not heard anything about him, and I hope he is well. Jeff was very sick. Jeff, Larry and I went to see Johnny Winter and Edgar Winter last year, and Jeff had a bad episode and had to go to the hospital. He's needed a new heart for a while
Another friend, Bob Rucker, had a heart transplant and he is doing great.
I moved some websites to DigitalOcean.com which is a whole new experience for me. You get a small virtual computer on the cloud and have to install all the software and configure it. I still can't get everything to work right. I don't know if I can keep it up, but I will keep trying. If it works, CThreePO.com will go next. I've already moved some small sites and WestNyackHoney.com. It is much cheaper than 1and1, but not so easy.
I opened the bee hives yesterday and two hives are dead and two are very strong. I have three packages of bees coming in the Spring, and if the two hives remain strong, I will buy queens and split them. There's about 80 pounds of honey in the dead hives, which translates to about $600 if I bottle it. Some will be used to start the new bees coming at the end of March. The rest I'll bottle.
It's snowing like crazy and my office is empty, so I can blog without anyone taking notice. Looks like about 6 inches out there. I will be leaving soon.
My oven died and we have been eating Chinese Food. New oven comes Wednesday during an ice storm. I need to get Larry to help me load it up in the truck to take to the scrap yard. "White" goods go for about $25 which will pay for our lunch, even though it is more work than taking advantage of the free cart away service that the oven store offers.
My laptop computer has lost its mousing ability and is useless. I bought a replacement touch pad and will try to install it soon.
Justine changed jobs and says that she is sending her old computer to me. Her company is buying here a new one. I am looking forward to it – its easier than fixing my old one.
I changed the theme on a few websites. Blogseye.com now has a "responsive" web page layout based on the "BoilerPlate" framework, so that it displays nicely on web pages as well as mobile devices. I will switch over all my sites eventually. Soon you will be able to read this blog on your cell. I will be getting rid of the dark background, I think, and moving the left panel to the right. It takes hours to build and then check, but I am getting better at it. You should see it soon.
I have not been riding the bus, but it is because I have been taking too much time in the morning. It is hard to get going since my operation. I took the bus twice last week. I took the car today because I was late again, but I wanted to be able to leave early if the snow was still bad.
Walter, the rooster, is not doing well. I don't think that he is long for this world. Egg production is down to about 6 a day. Erica ordered new chickens for this Spring, but she won't let me eat the old ones. Once you name a chicken you can't eat it. They can live 10 years or longer so we will have chickens that don't lay eggs, as pets, long into our retirement.
We had a cord of wood delivered. It is Ash wood and very light. It burns faster than oak or maple, but keeps the house warm. It requires more trips to the wood pile and you have to fill the wood stove more often. I have lots of maple from the tree that fell in the back, but it is too big to split. A neighbor's house is for sale and there is an old log splitter in their backyard that I'd like to buy. I keep forgetting to contact them and make on offer on the splitter, if it works.
That's the stuff that I would have been blogging about, so now you know. I've save you the trouble of having to read all of those posts. 90% of you you will not have even made it this far.
---
My brother sent me these ray guns. They are in eBay auctions. He thought that they would be good for the blog, and he was right. They go for quite a bit of money so I won't be buying them.
---
This is the third laptop that I've owned that i wore out the touchpad. I've ordered a new touchpad, but I am not lucky when it comes to taking tech apart.
I'm typing this using an iPad, which is why it is short. I find the touch keypad difficult.
---
I saw the ad for free mobile for life from t-mobile. If it is for free it is for me. I have a few odd mobile devices including a couple of iPads that I have inherited, but I refuse to pay outrageous data fees to read my email on the bus.
The T-Mobile plan is 200MB which is a tiny amount. You can't watch youtube videos, but you can read a couple of thousand emails. You can use google maps if you need to, or watch an ebay auction on the road. I like that it is for free.
I had lots of trouble with the cards. I put the first into a Chinese Galaxy S3 clone with two sim sockets. One socket I used for voice and the other one I put in the t-mobile card for data. I had to call customer service to get it going. It works OK now, but the phone is not that great and is very memory bound. I can read my email on the bus, now.
I put the other sim in an old iPad 2. It refused to activate and I spent two hours on the phone with T-Mobile playing ring around the rosey with operators to get it going, but now the iPad has 200mb of free data per month. It took 8 transfers to get the sim to work right.
From what I see, the free data for life activation is full of bugs and the forums are full of complaints. You can't fix it yourself and you have to spend time on the phone with the operators to repair things.
If you have an older device get yourself a t-mobile sim card from the link below and activate it. It is probably worth the trouble.
---
Rudy Rucker, THE BIG AHA
Rudy Rucker just release his latest book as a kickstarter. You can read the whole book for free at the address above. I have the Kindle version. I am looking forward to reading this. Rucker is one co my favorite writers and I haven't read one of his novels in a while.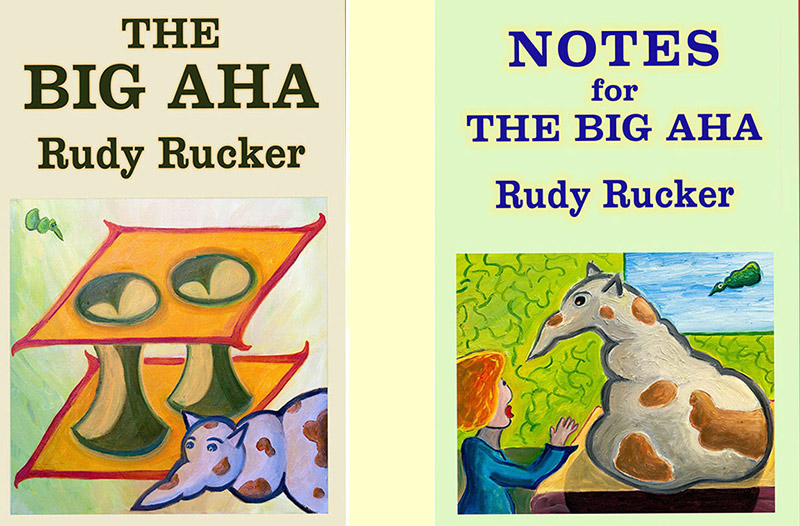 .
---
One of our Copper Marans Chickens, Veronica or Betty, I don't know which, has given us a deep purple-brown egg.


That's it on the right. On the left as a normal medium sized egg. These are very valuable eggs ($30 a dozen) and are supposed to be the best tasting eggs in the world. (The character James Bond (from the Ian Fleming books) demanded that his omelets were made only with Marans eggs, all other varieties considered to be of lesser quality.) We won't get enough to sell them separately, so the eggs we sell from the driveway may have a Marans egg from time to time. The Marans are not great layers so we might get 6 a week.
Here is a recent picture of the Marans. They have feathers on their feet and since we can't tell them apart, we call them the "Fuzzy Feet".

Eggs James Bond Recipe (Requires Copper Marans Eggs)
For four individualists:
12 fresh eggs
Salt and pepper
5-6 oz. of fresh butter.
Break the eggs into a bowl. Beat thoroughly with a fork and season well. In a small copper (or heavy bottomed saucepan) melt four oz. of the butter. When melted, pour in the eggs and cook over a very low heat, whisking continuously with a small egg whisk.
While the eggs are slightly more moist than you would wish for eating, remove the pan from heat, add rest of butter and continue whisking for half a minute, adding the while finely chopped chives or fines herbes. Serve on hot buttered toast in individual copper dishes (for appearance only) with pink champagne (Taittinger) and low music.
---
Kenny died last week. He was a sweet guy and will be missed.
Kenny was a few years younger than me or Larry. I remember him as a skinny kid who followed me around as I delivered papers. He has been my friend and my brother's friend for 50 years. He played pretty good bass guitar and it was always fun to jam with him. He was good at working on cars and fixed my old heaps more than once.
Kenny has been sick and unable to work. He had a stroke, but the he was denied disability. He had an implanted pacemaker in his heart since he was a small child. The doctors told his mother that he would never live to adulthood. He fooled them all, but it was his heart that got him in then end, anyway.
For the last few months he has been homeless and only the kindness of strangers has kept him from having to sleep in the woods.
Kenny had a hard and unhappy life, but he always seemed to have a sense of humor, and even when he was the most depressed, he never had a unkind word to say about anyone.
I miss you, Kenny.
---