I leave at about 10:30 this morning for a 1PM interview in midtown Manhattan.
---
6:47am the post office called to tell us that our new chicks had arrived from Ohio. They were a day late. I went down and got them. The chicks were cold and lethargic.
I put them under the heat lamp. two could not stand on their own and I started giving them water with honey and vitamins. The sugar shot woke them up. The temperature is about 90 in their box, now, and they are cheeping away.
Here is a picture of one.
---
Richard Powers painted many of the Science Fiction covers in the late 1950s and early 1960s. I have always admired his work.
I would love to own this painting.
Spring Sale Richard Powers Original Surreal Painting "A Break in The Clouds" | eBay.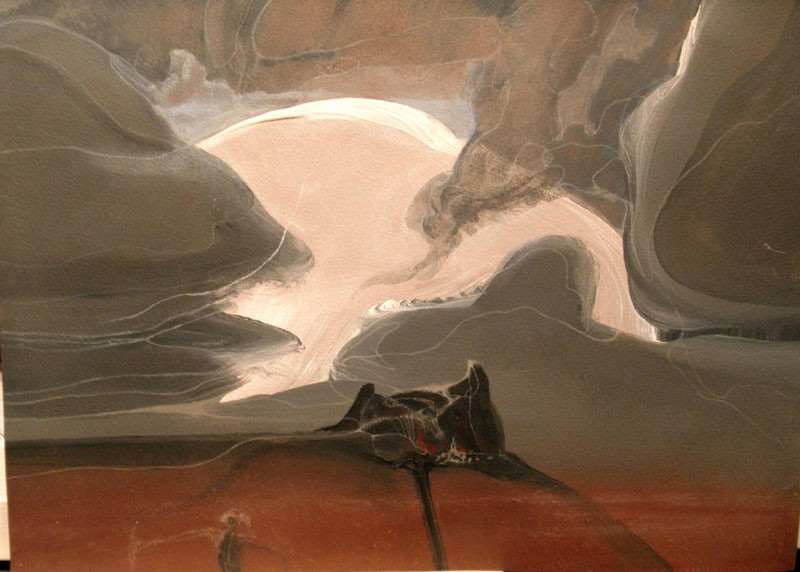 ---
Here's Mom and the doll she entered into this year's DAR craft contest.

---
North Country Computing Terms (a little dated now):
Log On: Making the wood stove hotter
Log Off: Don't add any more wood
Monitor: Keeping an eye on the wood
Download: Getting the wood off the truck
Megahertz: When you're not careful getting the firewood
Floppy Disk: What you get from trying to carry too much wood
Ram: That thing that splits the wood
Hard Drive: Getting home in the winter time in the snow
Prompt: What the mail isn't in the winter time
Windows: What you shut when it's cold outside
Screen: What you shut when it's black fly season
Byte: What those dang black flies do
Chip: Munchies for the TV
Microchip: What's in the bottom of the munchies bag
Modem: What you did to the hay fields
Keyboard: Where you hang the keys
Software: Those dang plastic forks and knives
Mouse: What eats the grain in the barn
Mainframe: What holds up the barn roof
Port: Fancy wine
Random Access Memory: When you can't remember what you paid for the rifle, when your wife asks.
---
Gruff, the stray cat that lives in our basement, was injured in a fight. His leg was terrible damaged and very infected. The vet thought that he might have even lost the leg if it had not been treated in time.
We have never brought old Gruff to the vet before. He did not try  to kill anybody, even though he has tried to kill me. In the last few years he has calmed down quite a bit and has become pretty snuggly.
He fights with our cats and marks his territory so he can't be allowed to wander the house. The wound is stitched and has a drain for the infection so he can't go outside. We compromise by letting him stay in an old dog cage we bought at garage sale. Needless to say he doesn't like it and I don't know how we will handle his bathroom issues.
For now he sits in the box and glares at us. I think, though that he likes being in the living room with the people and the other cats. He is rather handsome.
---
16 classic Ray Bradbury books are coming to digital booksellers for the very first time.
Bradbury books for the Kindle have only been available from some Russian sites where they were sloppily scanned and full of mistakes. I am looking forward to paying for "Something Wicked This Way Comes". I owe it to the master.
via Ray Bradbury Classics Finally Coming as eBooks – GalleyCat.
---
I opened up the bee packages to check them and I put on a second box on all three. The picture shows capped pollen (the tan cells) and the rest is uncapped honey. The bees have to reduce the moisture content of the honey until it is thick and then they cap it. There was capped honey along the top of some of the frames that I could see. The goal here is to have the bees put away enough stores to last through the fall and winter.
These bees are doing all right. I did not do much poking around as I do not want to disturb the bees too much and I did not want to accidentally hurt the queen, so I did not see brood. The bees generally do not work this hard though if they don't have a queen. The number of bees means to me that new bees are hatching out now.
---
7 weeks after I applied, with 5 interviews, I found out today that one of the jobs I am up for was down to two people and they offered it to the other guy. I wouldn't mind so much, but after all the discussion and back and forth on this job, I began to want it. I think I would have been able to get it if I had not wanted it.
Tomorrow is another interview.
I have to be careful not to want it too much.
---
This is very cute, but only for those of us who have read Dune more 8 or 9 times.
---
Much better than you'd think.
The new Star Trek Continues Web Series carries on the original 5-year mission. Star Trek Continues begins right where the original left off. To bridge the original series to Star Trek Continues, we have created some vignettes to catch us up on the crew as they begin the 4th year of their 5-year mission. The first full episode begins filming in January 2013.
---
David Brin is an SF writer that I read. Here is is take on yesterdays bombing:
It is mid-April. Perforce, whatever terrorist acts we see this time of year are not presumed to be perpetrated by overseas religious fanatics. Oh, sure, our agents and satellites are scurrying about, sniffing in those directions for clues and signs, as well some of them should. Still, I'll wager that the core of investigative attention is being paid to our home-grown monsters. Angry men whose fixations, hallucinations, grievances and heroes revolve around this week. Tax Day. Waco and Timothy McVeigh's murderous bombing in Oklahoma City. Hitler's Birthday. Columbine, the Virginia Tech Massacre. And warped interpretation of the Patriots' Day anniversary of Lexington and Concord.

If you have a crazy uncle or former roommate who mutters horrid fantasies, keep a special eye open during early April, from now on. In this coming era, our paid protectors will not suffice. As I portray in EXISTENCE, we will all be (in the far truer spirit of 1776) citizen soldiers, using our cell-phone cameras and networks and noses and instincts to help protect America and civilization from lunatics. Whether it is North Koreans smuggling in a dirty bomb or your cousin waging war against his own nation, we will be the front line.

Get used to it.
---
I have had to move the site back to the original servers. We lost a few weeks doing this. I will reload the files shortly.
In the meantime, at least the site works.
---