A Nuc, pronounced nuke, is a nuclear hive. It is four or five frames from a working hive including a queen.
When you get bees, you can obtain your colony in two ways. First is with a Package. Package bees come in a screened cage the size of a shoebox. There are three pounds of bees (upwards to 10,000) in the package. There is a can of sugar syrup in the cage and a queen in a box. The bees are grabbed from an existing hive and the queen is breed separately and may not be related to the hive. You put the package in your hive and let them get used to the queen. If you feed them enough and all goes well, then maybe they will all get along and start a colony. In three or four weeks the hive will be established and start increasing.
A Nuc on the other hand, is 4 or 5 frames from an existing hive. It is a colony that had been working well for a time and the bees know and are related to their queen. The frames contain honey and pollen and eggs and larva. The frames were pulled from a working hive. This is the nucleus of a hive. If you feed the bees and keep them happy, they already have a good start and will stand a better chance of success than a package.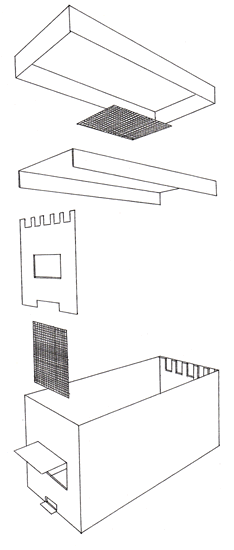 A nuc comes in a nuc box. It is usually a cardboard hive. The cardboard nuc boxes cost less than $7. (My supplier is charging $5.) You can get wooden nuc boxes for a bit more, but these are real, but small, hive boxes.
Bee suppliers don't always have nucs and they cost more. The package bees come from huge bee breeding farms in the south. Nucs, on the other hand, come from successful beekeepers who produce the nucs to make extra money. Package bees are cheap and easy and are usually successful, but come later in the spring and don't start really working until the summer, which is long after the first spring honey season. You have to feed and care for Package Bees. They might need a gallon or more of sugar a day for the first month. Nucs need feeding, but are also out working the flowers right away.
This spring I will be receiving two Nucs in April and a Package in May. I decided that I did not want to put all my eggs in one basket so I decided on three hives. This way I will have a better chance of success. I will also be able to compare the progress of the three hives to see how they compare.
My goal is to get a little honey this summer and fall. I then hope that the bees stay healthy and happy through the winter and increase in the spring. If I do everything right and I don't kill my bees I can then split the hives in the spring. If I get six hives I will place three in a few friends' yards. In two years I hope to sell some nucs myself.
Right now I am a total novice, without experience. I have high hopes, though. I am a quick learner. This time next year I hope to be experienced enough at this to hold some classes – another source of income.